The Kenya Port Authority wants to improve Trade with Modern Infrastructure Plans
Posted on : Wednesday , 26th October 2022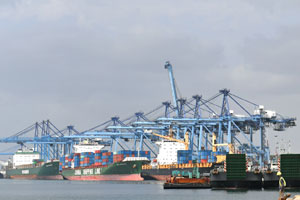 The East African regional economies' growth will be sped up by the Japanese International Cooperation Agency's (JICA) commitment to continue helping the Kenya Ports Authority (KPA) upgrade port facilities.
JICA has been a staunch ally of KPA and provided funding for the development of the second container terminal at the Port of Mombasa, which cost Sh32 billion.
The second container terminal at the busy port of Mombasa, which is situated on 100 acres at Kilindini Harbour, is expected to reduce congestion.
The Port of Mombasa serves a vast and quickly expanding hinterland that includes Kenya, Uganda, Rwanda, Burundi, South Sudan, Northern Tanzania, the Eastern Democratic Republic of Congo, Ethiopia, and Somalia. It is the primary entry point into the Eastern African region.
According to John Mwangemi, the acting Managing Director (MD) of KPA, JICA recently finished building phase two of the terminal, increasing the port's capacity by 450 000 twenty-foot equivalent units (TEUs) to the present 2.1 million TEUs.
Mwangemi claims that KPA will work with JICA to update and refurbish marine port infrastructure, pointing out the importance of port infrastructure for connectivity and economic development.
According to him, KPA is relying on infrastructure improvements to make the main port more suitable for larger container ships and handle the increase in traffic.
The KPA MD claims that the organization is eager to expand the nation's current port infrastructure.
According to Mwangemi, JICA is also essential to the development of Mombasa County's Dongo Kundu Special Economic Zones.
Mombasa is anticipated to become a regional logistics and manufacturing hub because of the Sh39 billion Dongo Kundu Special Economic Zones.
The export-processing zone (EPZ), industrial parks, free trade zones, as well as other ancillary services like tourism, meetings, conferencing, and exhibits, will be included in the special economic zone, which would be located on a 3,000-acre tract of land close to the port of Mombasa.
The KPA MD made this disclosure while hosting Mari Kato, Senior Representative of the JICA Kenya Office, and Katsuo Matsumoto, Director General (DG), of the Infrastructure Engineering Department at JICA, at his office.
Mwangemi stated that a feasibility study for the construction of phase three of the second container terminal at the Port of Mombasa is already being carried out by KPA.
According to Matsumoto, JICA and KPA have a long-standing friendship thanks to the building of Mombasa Port Development Project Phase One, which was finished in February 2016 and Phase Two, which was finished in May 2022.
In order to prepare Kenya for any financial shocks, he said, an expansion in port capacity will promote trade and provide it a competitive edge in the increasingly interconnected world.
Later, Matsumoto visited a number of road project sites to assess progress, including the Mombasa Port Area Road Development Project (MPARD), which consists of three packages, along with the Director Development (dg) Eng. Charles Obuon and Deputy Director Special Projects Eng. Samuel Ogege of the Kenya National Highways Authority (KeNHA).
In May 2018, package I of the project from Miritini to Kipevu was finished. While package III from Mteza to Kibundani is nearing completion and will be finished in July 2023, package II of the project from Mwache to Mteza (Dongo Kundu) is now under construction and is scheduled to be finished in March 2024.
According to him, "the road projects are aimed to provide infrastructure to carry cargo to and from the port of Mombasa promptly, efficiently, and cost-effectively and to enable efficient evacuation of commodities to and from the hinterland."
The reduction in travel time and vehicle operating expenses within the counties of Mombasa and Kwale, according to Obuon, will stimulate industrial development once all three packages of the MPARD are finished.
The KPA MD further revealed that in 2022, the port of Mombasa is anticipated to process 35 million metric tonnes of cargo in total.
Mwangemi reports that compared to the previous year, container traffic increased by 4.4 percent, totaling 361,324 TEUs.
According to him, the port of Mombasa handled a total of 34.55 million metric tonnes last year, up 1.3 percent from 34.12 million metric tonnes in 2020. According to him, the port handled 1.43 million TEUs in container traffic, which is a significant increase of 5.6% over the performance in 2020, when 1.35 million TEUs were handled.
He also revealed that the Democratic Republic of the Congo, with a market share of 8.2%, is currently the third-largest market for the Port of Mombasa, behind South Sudan and Uganda.
More private and public organizations from Central African nations are opening offices in the DRC as a result of its formal entrance to the East Africa Community.
Lignes Maritimes Congolaises, a government-owned shipping company from the DRC, started operating in Mombasa in June of this year in an effort to solidify its position.
Source : www.gambetanews.com