More Geothermal Power Plants Planned For Ethiopia
Posted on : Monday , 17th October 2022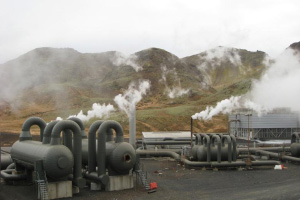 A United Kingdom company specialising in onshore deep drilling has secured financing to construct 2 geothermal power stations in Ethiopia.
The projects at Tulu Moye and Hawassa will be Ethiopia's 1st independent power stations and will run off geothermal energy harnessed by drilling deep into the volcanic rocks below.
The Tulu Moye geothermal prospect site is situated in the main Ethiopia Rift, northwest of Asella while Hawassa is a city in the Great Rift Valley of central Ethiopia on the eastern edge of Lake Awasa.
Marriott Drilling Group have raised funding from NPIF – Mercia Debt Finance, which is managed by Mercia and is part of the Northern Powerhouse Investment Fund. Marriot has already invested in 2 new rigs that are being shipped to the East African country.
The funding will provide working capital to support the ongoing operations, which will last for 4 years and require up to 160 technical staff between the two sites at any one time. The company employs around 300 staff and is currently working on other projects in Bolivia, Ethiopia, Ireland, Kenya, Mozambique and Switzerland. The funding is also expected to create around 18 new jobs at their headquarters in England.
Financial Controller at Marriott Group David Jones said: "The projects at Tulu Moye and Hawassa will be critical in rolling out renewable energy to meet Ethiopia's growing power needs and we are delighted to be playing our part. However large-scale contracts like these require us to have the right finance in place. The funding from NPIF – Mercia Debt Finance will provide additional capital to support the day-to-day operations on site."
Andy Tyas, Investment Manager at Mercia Asset management said growing interest in geothermal power exploration is opening up new opportunities for Marriott. "It is great to be able to support its work on these projects, which will enable it to continue to build its international reputation while supporting sustainable development in Ethiopia."
Sean Hutchinson at British Business Bank, said they are delighted Northern Powerhouse Investment Fund has provided funding to Marriottt as it is developing sustainable geothermal energy solutions across the world.
"This investment helps to showcase the Fund's diversity of businesses it can support, and the impact it can have in helping companies, such as Marriot Drilling, kickstart new projects and ventures," said Hutchinson.
The Northern Powerhouse Investment Fund project is supported financially by the European Union using funding from the European Regional Development Fund (ERDF) as part of the European Structural and Investment Funds Growth Programme 2014-2020 and the European Investment Bank.