Egypt remains dedicated to providing healthcare to Tanzania.
Posted on : Tuesday , 11th October 2022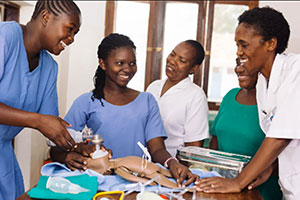 Egypt has reaffirmed its commitment to helping Tanzania raise the standard of healthcare services offered there.
Mohamed Gaber Abulwafa, the Egyptian ambassador to Tanzania, reaffirmed the promise while presenting medical supplies to the Medical Stores Department (MSD) office in the Dar es Salaam region.
He stated that through the Egyptian Agency of Partnership for Development (EAPD), his nation will continue to support the Tanzanian government's initiatives to ensure the provision of high-quality healthcare services in the nation.
"We are eager to increase our assistance to Tanzania's health sector. The ambassador stated that this support for the nation was not the first and will not be the last. He claimed that Egypt provided further support of 16.1 tonnes of medications and medical supplies in January of this year.
The Tanzanian government intends to construct a complex of medical facilities in Dodoma and increase investment in the pharmaceutical industry, according to the Egyptian envoy, who stated that his nation is still in consultation with Tanzania about these plans.
He declared, promising to continue assisting other areas of the economy, "We are focusing on investing in the pharmaceutical sector in our efforts to support President Samia Suluhu Hassan's administration to increase delivery of healthcare services for the wellbeing of Tanzanians."
Director of Pharmaceutical Services and Chief Government Pharmacist Mr. Daudi Msasi thanked the Egyptian government for its support in his remarks on behalf of the Ministry of Health.
Since many years, Egypt and Tanzania have had positive bilateral relations. As of 2020, the two nations' trade volume was estimated to reach $40 million, with Egypt benefiting from the imbalance.