Agri-summit: Kijaji wants Tanzania to be the continent's food powerhouse.
Posted on : Thursday , 29th September 2022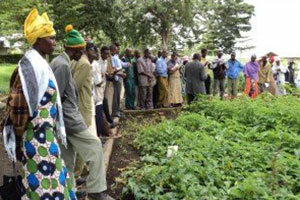 Dr. Ashatu Kijaji, the minister of investment, industry, and trade, has urged both the public and private sectors to work together to make Tanzania the hub of the continent and the world for the trade of food.
She issued the challenge before a symposium on agriculture.
President Samia Suluhu Hassan is expected to give the opening address at the five-day African Green Revolution Forum (AGRF), which will take place in Kigali, Rwanda.
Dr. Kijaji stated Tanzania's aim to be an international food supplier and the market leader in agro-industrialization in Africa while speaking at the Tanzania Agribusiness Investment Summit 2022 in Dar es Salaam.
She predicted that success would come about as a result of collaboration between the public and private sectors for the benefit of smallholder farmers.
The government organised the day-long Tanzania Agribusiness Investment Summit 2022, bringing together the departments in charge of investment, industry and trade, agriculture, livestock and fisheries development, as well as the Tanzania Investment Centre (TIC).
Participants included representatives from the public and business sectors, civil society, and development partners. Apollos Nwafor, vice president of Agra, led the group to the conference, which served as the official opening of the Kigali-based 2022 Agribusiness Dealroom.
"From Tanzania, we wish to serve Africa. Through the agricultural sector, Tanzania wants to assist the rest of the globe, according to Dr. Kijaji.
Dr. Kijaji expressed her satisfaction with the government for increasing the budget for agriculture from Sh294 billion in 2021–2022 to Sh954 billion in the current fiscal year. With the vast resources Tanzania has been given by God, she stated the goal was to achieve local, continental, and global food security.
Dr. Apollos Nwafor praised Tanzania for giving the transformation of food systems top priority and reaffirmed that Agra would continue to assist government initiatives to advance the industry. He congratulated the nation for establishing the Tanzania Agro-industrialization Development Flagship (TAIDF), which aims to encourage investment in agro-industrialization, and for leading the global agro-industrialization movement.
The African Agribusiness Dealroom, a year-round networking platform at the African Green Revolution Forum (AGRF), which brings together capital seekers and suppliers, is where Tanzanian companies pitched their products during the summit.
The Agribusiness Dealrooms offer business owners in the agriculture and agribusiness industries access to financing, market entrance strategies, and links to upstream and downstream supply chains to help them achieve their growth goals.