Suez will recover Renault's waste over the next three years in Morocco.
Posted on : Tuesday , 27th September 2022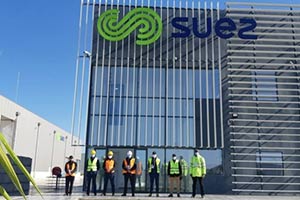 Renault, the French car manufacturer, has renewed its contract with Suez for waste management at its two Moroccan plants. Suez Morocco has been recovering Renault Group industrial waste since 2008.

In Morocco, Renault and Suez are expanding their collaboration. The French environmental behemoth's Moroccan affiliate has seen its contract to manage industrial trash at two locations extended. The Renault Express, the Dokker, and the Dacia Lodgy are three commercial vehicle models that are produced in Tangiers by the French automaker Renault. In October 2023, the Melloussa Free Zone facility should begin assembling electric automobiles.

Renault operates the Moroccan car manufacturing company (SOMACA) factory in Casablanca, which it purchased in 2003. This plant manufactures the Dacia Logan, Sandero, and Sandero Stepway models. The two sites, which have a combined capacity of 440,000 vehicles per year, generate an average of 20,400 tonnes of waste over the same time period. Suez Morocco will be in charge of waste treatment for the next three years.

Towards environmental certification?

Renault will receive human and material resources from the Casablanca-based company to manage its waste, including collection, sorting, compacting, capping, packaging, storage, and all treatment and recovery operations. "This new contract marks the success of the 14-year partnership between the two Moroccan companies." "The two groups will work together to further develop the circular economy in Morocco, in line with the objectives of Morocco's industrial acceleration plan for the period 2021-2023," says the Suez group's Moroccan subsidiary.

The contract renewal also includes management of the wastewater treatment plant, which treats wastewater discharged by the Somaca plant. The contract also includes full digital service management and ISO 14001 certification for the Renault sites in Casablanca and Tangiers.

For the record, the ISO 14001 standard specifies a set of requirements that an organization's environmental management system must meet in order to be certified (by an external body, editor's note) and for a limited time. These principles are consistent with Renault's goals of lowering "the costs and carbon footprint of its business while improving waste recovery and performance."