Kenya: Iten town in Kenya will get a Sewerage System.
Posted on : Tuesday , 27th September 2022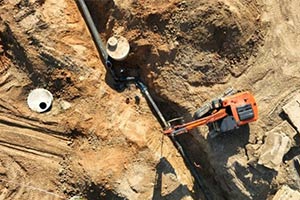 Elgeyo-Marakwet County officials in Kenya recently unveiled a new sanitation initiative. In the town of Iten, it entails the installation of a sewerage system. The initiative, which aims to improve sanitary services, is being carried out by the North Rift Water Works Development Authority (NRWWA).

In the Kenyan town of Iten in Elgeyo-Marakwet County, new pipes will be used to drain effluent. The local government announced the sewerage project on September 21, 2022. The project will be carried out by the North Rift Water Works Development Authority (NRWWA). Unknown in terms of size, the sewage system will transport wastewater (from houses, grey water, etc.) to a new treatment facility with a daily capacity of 6,800 m3.

NRWWA will contribute 900 million Kenyan shillings, or roughly $7.5 million, toward the cost of the Iten sewerage system construction. The organisation, which reports to Kenya's Ministry of Water, Sanitation, and Irrigation, is in charge of managing and developing waterworks in four counties in the Rift Valley. These counties are Elgeyo Marakwet, West Pokot, Uasin Gishu, and Turkana.

Director General of NRWWA Edwin Rotich announced related initiatives in Kapcherop and Kapsowar after the presentation of the Iten sanitation project. Before the potential building of sewage systems in these Kenyan towns, feasibility studies are planned, he said.

According to the Kenyan Ministry of Water, Sanitation and Irrigation, the conclusion of these numerous projects would help the government of the Republic of Kenya get closer to its objective of raising the country's rate of access to sanitation from 20% to 40% by the end of 2022.