The Singida Mine of Shanta Gold is scheduled to open in 2023.
Posted on : Monday , 26th September 2022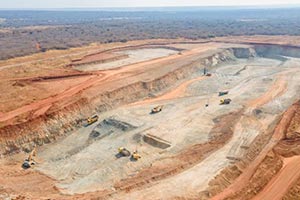 After announcing its interim results for the first half of 2022, Shanta Gold gave an update on the Singida Gold Mine, which will start producing in Q1 2023 and become the company's second functioning mine in Tanzania.
Singida will be Shanta's second working mine in Tanzania when development on it begins in late 2020. The firm will become a +100,000 oz/pa producer owing to this activity, which will also diversify its resource base. Singida is located in the Ikungi region of central Tanzania, and it is said that the corporation is making significant investments in the project to make sure it is successful for the area and the local people. Based on available reserves, the present Life of Mine continues until the end of 2029.
"With around 70% of the construction work now complete, the Singida project is still moving along nicely. We estimate that the first gold will be poured in the first quarter of 2023, making Shanta a producer of 100,000 oz. or more of gold with a broad asset base. Additionally, the high-quality West Kenya Project, which saw the MRE rise by 31% over the course of the Period to 1.55 Moz, continues to generate interest. stated Eric Zurrin, Shanta Gold's chief executive.
The mining licences ML 456/2012, ML 455/2012, and ML 457/2012, which Shanta Mining Company Limited owns 100% of, were successfully renewed for a further 10 years in January 2022. In order to store the ore until it can be processed through the Carbon in Leach facility, which is presently being built, mining activities started in September 2021. According to the current Life of Mine Plan, seven open pits will be mined.
According to the business, the projected processing technology is traditional and metallurgically straightforward, incorporating tried-and-true crushing and milling methods with carbon-in-leach gold extraction expected to yield 91%-plus strong gold recoveries. At the conclusion of the quarter, the ore stockpile levels were 97,918 tonnes grading 2.11 g/t for 6,647 contained ounces. Singida worked a total of 114,027 man-hours in June 2022, which added up to 1,037,214 man-hours worked during the period without a Lost Time Injury (LTI). No medically treated injuries (MTI) occurred throughout the period, resulting in a TRIFR of 0.00 for the time period and 0.00 for the whole year.
Shanta also brags about its excellent interim performance for its other East African ventures. From USD 19.8 million in the first quarter, revenue grew to USD 32.1 million in Q2. A interim dividend of 0.10 pence per share was announced and is payable in November 2022, but the final dividend for 2021 of 0.10 pence per share was paid in July 2022.
"While we must be cautious about inflation and its effects on some necessary expenditures, we continue to be committed to maintaining our operational and capital discipline. As a business, we are steadfast in our commitment to upholding our solid connections with the neighbourhood communities and authorities and conducting business responsibly. For their efforts this year thus far, I would want to thank the Shanta staff. We predict that the firm will have a successful second half of the year, and we look forward to informing shareholders when it is appropriate. Zurrin came to an end.
Source : www.miningreview.com