Midroc Ethiopia's Next Business Venture: A 1 billion USD residential town project
Posted on : Monday , 26th September 2022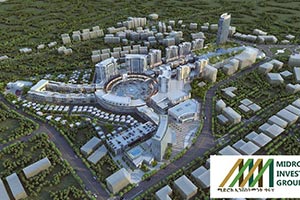 The Mahmadya Residential Village Project by MIDROC Ethiopia is anticipated to be the country's largest exclusively private real estate project.
The largest company in Ethiopia and a division of Midroc International, Midroc Ethiopia, is starting a new operation in the country's real estate sector.
The company said last week that it has started a 50 billion birr (USD 1 billion) housing village development project in the Ethiopian capital Addis Ababa.
In the Mechare Meda neighbourhood of Addis Ababa's Sarbet district, the new "Mahmadya Residential Village" will be built. The project involves 250,000 square kilometres in total.
When the project is finished, it will include villas and apartments for rent, a mall, a grocery store, a fitness centre, and a theatre. Additionally, it will contain a green space and a parking lot large enough to hold approximately 8,000 vehicles.
In between five and seven years, the enormous project is anticipated to be finished.
MIDROC, owned by Saudi billionaire Sheik Mohammed Hussein Ali Al-Amoudi, who was born in Ethiopia, is no stranger to the building industry. It has some previous experience in the field.
It indicates that the project's construction is not being outsourced. It will be done by MIDROC. More precisely, the project is being managed by Huda Real Estate, one of the businesses of MIDROC Investment Group. The manufacturing, agricultural (including dairy and poultry farming), hotel, and mining sectors, to name a few, are just a few of the industries covered by MIDROC.
The developer has yet to say if the new project will be available for purchase or whether there are other plans for it.
The Legahar Housing Village project, a comparable undertaking in Addis Ababa, began in 2018 and is scheduled to be finished in 2025. Additionally, this project is worth 50 billion Ethiopian Birr.
It differs from "Mahmadya Residential Village" in that the former is believed to be a public-private collaboration and the latter is solely a private company.
It is a joint venture between the Ethiopian government and Eagle Hills, a construction company based in the United Arab Emirates.