Reforms to Tanzania's investment laws begin to bear fruit: TIC
Posted on : Thursday , 25th August 2022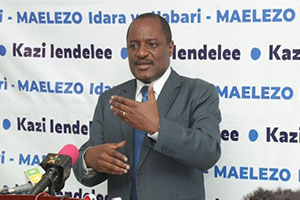 In the upcoming years, six strategic investors will invest a combined $1.1 billion as the government ramps up its investment promotion campaign, supported by pro-business and economic diplomacy initiatives.
This occurs at the same time as Tanzania Investment Centre (TIC) is proud to have increased the number of investment projects by 14.6% in the fiscal year 2021–2022.
John Mnali, the interim executive director of TIC, told reporters that 274 projects total—up from 234 the year before—were registered in the nation during the 2021/22 fiscal year.
In comparison to the 36,470 employment created by the projects we filed the year before, the projects registered for the 2021/22 financial year are estimated to create 43,927 jobs, he said.
A fertiliser production project, sugarcane cultivation, sugar production, gypsum board manufacture, gypsum powder production, and Taifa Gas, which will process and produce cooking gas, are some of the major projects that will generate $1.1 billion in investments and 28,710 direct jobs.
Out of the projects registered for the 2021/22 fiscal year, TIC selected five as strategic.
According to Mnali, the five projects, totaling $368 million, are particularly significant for Tanzania's efforts to grow its economy.
Among these are projects worth $202 million from Mufindi Paper Mill to produce sugarcane in Kasulu, Kigoma; $3 million from AvoaAfrica to process avocados in the Njombe Region; and the creation of industrial parks in the coastal area.
The list also includes a $12 million industrial park that will be built at Kamaka in the same region, as well as a $150 million industrial cluster that will be built at Kwala in the Coast Region and is presently in the implementation phase.
According to Mr. Mnali, "The Kamaka Project would directly produce 7,000 jobs through the creation of 71 firms at the park."
According to Mr. Mnali, the projects that have been filed would have an effect on bringing in foreign cash and increasing government revenues because 75% of income comes from foreign investors who pay taxes.
He emphasised that TIC has improved registration mechanisms to enhance the number of projects registered at the centre in order to continue attracting domestic and international investors this fiscal year.
"In order to attract investment, we will continue to enhance and increase the services provided by One Stop Facilitation Center. To advance with project management, monitoring, and evaluation procedures, and to promote both domestic and international investment through seminars and conferences," he stated.
He claims that they would continue to solve investment problems, undertake diverse research to enable the discovery of new investment opportunities, and raise awareness of various concerns among wananchi through social and mainstream media.
According to him, TIC would keep working with Tanzanian embassies to promote Tanzania in an effort to draw in overseas investors.
Source : www.thefoodfeed.tz