The first electric bus ever created and developed in Africa is unveiled by Opibus
Posted on : Wednesday , 24th August 2022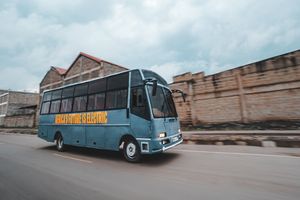 The first all electric bus in Kenya and the first electric bus ever with an African design have just been launched by Opibus. By the end of 2023, the business hopes to offer an electric bus that was created and built locally and that can be mass-produced for the entire African continent. The deployment of products designed for the local use case is a step in achieving Opibus's objective of electrifying Africa's public transportation system. Local engineering ability is used locally to design and build the bus internally, along with local manufacturing partners.
The unique Opibus electric vehicle platform, which is modular and can serve as the basis for a variety of vehicles, is the technology's fundamental component. This makes it possible to design a bus that is reliable, durable, and affordable enough for the African use case. This implies that local and international contract manufacturers can be employed to quickly scale up a product that is globally competitive.
Compared to importing fully built electric buses, this bus will be substantially less expensive. In contrast to its diesel equivalent, it also performs better. When a strong motor is installed, the bus has maximum torque, which enhances performance and makes it possible for the driver to accelerate more swiftly. Furthermore, since the electric bus lacks a combustion engine and manual transmissions, there are no oil, filter, or gasket changes required. Comparing this to a diesel bus, the maintenance costs are reduced by 80%. The entire running costs are reduced by 50% when accounting for energy costs, which are also much less expensive than the steadily rising price of diesel. This will completely transform the public transportation industry in Africa.
The initial location for the bus deployment will be in the peri-urban districts surrounding Nairobi Metropolitan, along with a business plan that enables operators to generate a profit right away. A number of charging stations from Opibus' current line of products will be deployed in addition to the bus deployment. These chargers will include both AC (slow) and DC (quick) chargers; when utilising the fast charger, the electric bus will be fully charged in under an hour, allowing for smooth operation.