Oil and Gas in Africa: Tanzania Takes Lead as It Hosts Energy Congress
Posted on : Wednesday , 17th August 2022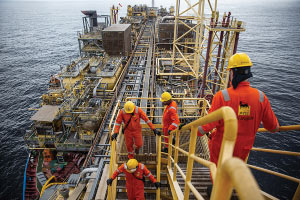 When it comes to oil and gas in Africa, there is plenty of potential to produce enough energy on the continent.
Africa accounted for approximately 8%of the global oil output in year 2020. Similarly, at least 330 million metric tonnes of oil will be produced in Africa in 2020 (Statista). Global oil and gas players such as ExxonMobil, Shell, Equinor, and BP are pushing the continent forward.
The energy sector in East Africa is rapidly expanding its commercial potential thanks to Tanzania. The EACOP pipeline, upstream offshore gas projects, LNG project discussions, and various renewable energy project proposals was the main topics of discussion during this year's Tanzania Energy Congress (TEC) in Dar Es Salaam on August 3 – 4, 2022
Oil production in Africa was recorded at a low level in 2020, where only 6.9 barrels per day were produced since 2000. According to the Nigerian government's 1st quarter records, the West African nation is the continent's leading oil producer, with 1.5 million barrels per day.
On the other side of the energy landscape, natural gas in Africa is yet another lucrative form of fuel unexplored entirely.
Currently, Algeria is the region leading natural gas producer. The nation holds almost 2.4 trillion cubic meters of proven natural gas reserves and is the region's largest gas exporter.
According to the Organization of the Petroleum Exporting Countries (OPEC), the nation has at least 105,043 million cubic meters of marketed natural gas.
Without a doubt, Africa has a healthy foundation for oil and gas production. Stretching from East Africa with Uganda, Kenya and Tanzania to North Africa with Algeria and Egypt.
The sector is no longer taken as a complicated industry that takes time to mature but as an opening for propelling Africa's industrious ambitions.
Energy access and production have topped the African government's priorities for many years.
Hence, for the 1st time since Africa began adopting its own means of production from imperialists, all numbers and trends can be tracked in real-time on how oil and gas discoveries and explorations are transforming economies.