TANZANIA: TANESCO Joins Forces with Masdar to Produce 2 GW of Clean Energy
Posted on : Friday , 12th August 2022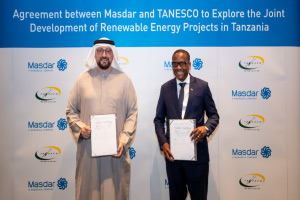 In Tanzania, the state-owned Tanzania Electric Supply Company (TANESCO) has agreed with Masdar of the United Arab Emirates to jointly produce 2 GW of clean energy, including solar photovoltaic plants with a combined capacity of 600 MWp. The project will help meet the growing demand for electricity in this East African country where only 39% of the population has access to electricity.
Tanzania aims to achieve an electrification rate of 75% by 2035. To achieve this, the government of this East African country is counting on private investors. In this context, the state-owned Tanzania Electric Supply Company (TANESCO), which is in charge of electricity distribution, recently signed an agreement with the Dubai-based energy company Masdar in the United Arab Emirates (UAE). The partnership covers the joint development of renewable energy projects with a total capacity of 2 GW, including 600 MWp of solar PV in the 1st phase.
"Masdar and TANESCO are working together to support the energy transition and provide a clean path for growth in Tanzania," says Abdulla Zayed, Masdar's head of business development and investments. According to the Tanzanian Minister of Energy, January Makamba, the project will connect many Tanzanians to the national power grid.
The UAE company Masdar is active in 40 countries, including Mauritania, Egypt, Morocco and Tanzania. In this East African country, the demand for energy is constantly growing, particularly in the regions of Dodoma, Singida, Shinyanga, Mwanza, Simiyu, Njombe and Iringa, where demographic growth goes hand in hand with industrialisation.