The Nairobi-Nakuru-Mau Crest Highway Project receives approval from the African Development Bank for 150 million USD
Posted on : Friday , 29th July 2022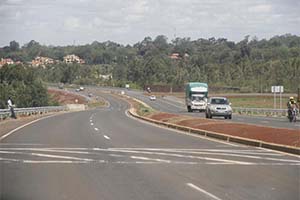 As part of the First Mover Public-Private Partnership (PPP) initiative, the Board of Directors of the African Construction Bank Group today approved financing of 150 million USD for Kenya to assist a significant highway development project.
The project will include building the A8 and A8 South freeways. The current 175 km of A8 road from Rironi to Mau Peak will be upgraded and maintained over a 30-year period, as will the 57.8 km of two-lane A8 South from Rironi to Naivasha.
Beginning in Nairobi, Kenya's capital and economic hub, both roads are significant corridors that cross the most densely populated regions of the nation. They also travel through a number of Nakuru and Kiambu counties, which contain agricultural areas, wildlife sanctuaries, and popular tourist destinations. The roads are also a part of the crucial "Northern Corridor," which connects Kenya with its landlocked neighbours and is the busiest commercial and transportation corridor in East Africa.
The 150 million USD is part of a DFI tranche provided by the Bank Group's non-sovereign operation lending window to Rift Valley Highways Limited, a special purpose vehicle registered in Kenya and owned fully by the Meridiam Infrastructure Africa Fund and the VINCI group. In September 2020, Rift Valley Motorways and the Kenya National Motorways Authority (KeNHA) agreed to a PPP concession agreement for the 30-year design, financing, construction, operation, maintenance, and transfer of the two highways.
The project is in accordance with Kenya's aspirations for Vision 2030 and its national strategy to encourage industrialization through infrastructure expansion. Additionally, it is consistent with the Bank's infrastructure targets in its Ten-Year Strategy and three of its High 5 priorities: integrate Africa, industrialise Africa, and enhance the standard of living for Africans.
The first PPP project under the Bank's freshly developed PPP Framework has just received initial clearance from the Board. According to Bank Acting Senior Director for the Infrastructure and Urban Development Department Mike Salawou, 'Tolling and concessioning of major trade corridors across the African continent is on the rise as the AfCFTA amplifies the demand for connectivity and integration and as alternative finance sources through PPPs are required to assure the sustainability and dependability of trade corridors.'
Direct development results envisioned from the project include higher productivity, commercial efficiency, and time and cost savings, according to Nnenna Nwabufo, Director General for the Bank's East Africa Region. In the long run, this should promote economic growth and raise everyone's level of living.
It is projected that the project will create 1,500 employment during construction and 200 jobs throughout operation, with at least 40% of the labour and materials used locally.