Kenya to establish an automotive council to promote local auto assembly
Posted on : Thursday , 28th July 2022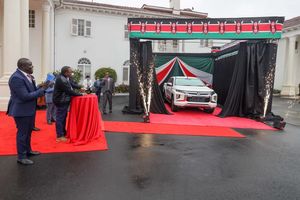 According to President Uhuru Kenyatta, the Kenyan government will establish a national automotive council to support the execution of an automotive strategy aimed at increasing local car assembly.
Kenyatta said while introducing the locally built Euro 4 Mitsubishi L200 truck in Nairobi.
The Head of State urged industry players to continue collaborating with the government to guarantee that the automotive sector is revitalised and stabilised.
He congratulated the automobile industry's stakeholders for their contributions to the sector's growth.
"I sincerely appreciate the relationship that has contributed to the resurrection of this once-moribund business, and I want to give you my promise and pledge that we will continue to work together to attain the objectives that we envisioned way back in 2019," he added.
"Our desire to guarantee that future governments continue with the same policies since this is not only excellent for strengthening the country's manufacturing capability but also beneficial for skills transfer, creating jobs for our people, and providing new possibilities," he said.
Speaking at the inaugural event, Industrialization Chief Administrative Secretary (CAS) David Osiany stated that the National Automobile Policy will help the nation reclaim its status as a regional automotive manufacturing powerhouse.
Osiany admitted that the country's assembly factories are now manufacturing 6,000 automobiles per year while having the potential to produce 30,000 units, accounting for less than 25% of total production capacity.
"Kenyans have benefited from 100,000 direct and indirect employment created by the industry. The sector also pays roughly $30 billion in taxes to the government each year" According to the CAS.