EUR 63 million loan, approved by the African Development Bank to boost the production of cereals and oil seeds.
Posted on : Monday , 8th August 2022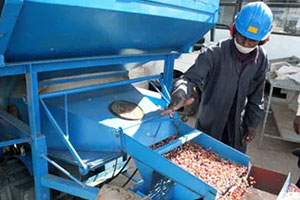 The African Development Bank Group's Board of Directors has granted a €63 million loan to Kenya to help it increase its production of cereals and oil seeds by more than 1.5 million metric tonnes over the next two years. The increased output will support the country's food security and economic resiliency.
The loan is a component of the $1.5 billion African Emergency Food Production Facility, a pan-African effort to stop an impending food crisis.
The money from the loan will go toward assisting the nation's Ministry of Agriculture, Livestock, Fisheries, and Cooperatives (MoALFC). It will make it possible for the government to quickly get seeds and fertiliser to farmers in time for the short rains of October to December 2022 and the long rains of 2022 to 2023.
Dr. Beth Dunford, the Vice President of the Bank for Agriculture, Human and Social Development, stated that she was thrilled to introduce the Kenya African Emergency Food Production Facility. Approximately 650,000 farmers will directly benefit from the Facility's successful implementation, which will result in the production of 1.5 million tonnes of grains and oil seeds. Around 2.8 million individuals will benefit from the Facility overall, she continued.
To increase productivity, the effort involves providing 650,000 farmers with approved seeds, fertiliser, and agricultural extension. The adoption of an electronic voucher system will make sure that input subsidies are "smart."
In order to ensure that farmers have access to sufficient quantities of fertiliser, another project component will offer trade finance guarantees and leverage the private sector. The programme, which targets smallholder farmers, will increase access to staple foods while also helping women and young people in particular.
The agricultural industry, which employs 70% of the rural population and generates around 65% of export revenue, continues to be the foundation of the Kenyan economy.
The African Emergency Food Production Facility, which will give 20 million African farmers access to agricultural seeds, was approved by the Board of Directors of the Bank Group. The objective is to produce an additional 38 million tonnes of food over the next two years, mostly from wheat, maize, rice, and soybeans, which will bring in $12 billion.