Coca-Cola Beverage Africa strikes an agreement with Organisations in Kenya for the sustainable recycling of plastic bottles.
Posted on : Tuesday , 26th July 2022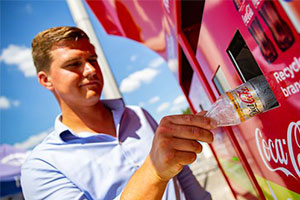 Coca-Cola Beverage Africa (CCBA) has signed a three-year Memorandum of Understanding with VetLab Sports Club and T3-Kenya to recycle 100% of the plastic bottles used at VetLab Sports Club.
T3-Kenya is a social enterprise that converts plastic waste into garments through bottle-to-fashion recycling.
T3-Kenya has agreed to recycle all plastic bottles collected during and after games at Nairobi's VetLab Sports Club.
This move is consistent with The Coca-Cola Company's World Without Waste initiative, which was launched in 2018 with the goal of collecting and recycling the equivalent of every bottle sold globally by 2030.
In Kenya, the consumption of polyethylene terephthalate (PET) bottles has increased over the years, owing primarily to an increase in bottled water consumption.
Because Kenya doesn't have a well-developed infrastructure to handle solid waste, the millions of PET plastic bottles that are consumed each year wind up in the general trash stream.
T3 - Kenya takes advantage of the possibilities offered by recycled resin and produces yarn and textiles made entirely from post-consumer water and beverage bottles that are sourced, processed, and spun into yarn only in Kenya.
This concept provides a long-term answer that lessens the industry's environmental impact by recycling waste into goods that are just as good as the original yarn, thread, and fabric.
This would result in significant energy and water savings in the textile industry, offering a comprehensive solution to the challenge facing the country.
The final product is created mechanically, not chemically, from 100 percent recycled post-consumer plastic waste.
The yarn can be used to create an infinite variety of items with quality levels comparable to those of virgin polyester, but with significant resource and expense benefits for the environment.
The alliance comes after a 2019 agreement between CCBA, T3, and PETCO to offer creative ways to bale post-consumer PET plastic in order to make their transit for recycling and manufacture easier.
In collaboration with key actors in the industry, CCBA intends to continue offering creative approaches to managing plastic waste not just in Kenya but also across the continent.
Source : www.afribusiness.co