In Africa, the recycling of plastic trash is picking up steam.
Posted on : Tuesday , 28th June 2022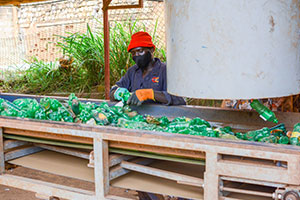 Food and beverage packaging is an important element of modern living, since it helps to assure food safety and prevent waste. However, the globe faces a packaging problem that demands a global solution. Coca-Cola Beverages Africa (CCBA), in collaboration with The Coca-Cola Company, has set ambitious goals to collect one bottle or can for every one it produces by 2030, use 50 percent recycled content in all packaging by the same year, and make 25 percent of its packaging reusable by the same year, with all of its packaging being 100 percent recyclable by 2025.
To succeed, the World Without Waste programme relies on relationships with customers, consumers, industry, and governments. The move to clear Sprite PET in six markets, which makes it more easier to recycle and has better value as a recyclable material, is one of many initiatives occurring across CCBA's territories.
Diana Sibanda, CCBA Group Head of Sustainability, said the company was working on more environmentally friendly ways to manufacture, distribute, and sell its products.
When the Entoto Park opened in Ethiopia, 263 women who made a career collecting firewood in and around Entoto mountain were laid off. CCBA helped them start collecting PET in the park and surrounding areas, sorting it, and delivering it to recyclers. They are now collecting approximately 10 tonnes every month. They were also taught how to weave baskets out of discarded plastic to supplement their income.
In Ambo city, adjacent CCBA subsidiary Ambo Mineral Water SC, a model collection centre was also established, employing 13 women and two men.
In Addis Ababa, another organisation was formed to provide jobs for 49 people who were trained and given a baling machine as well as personal protective equipment.
In Ethiopia and other regions, CCBA has also introduced a clear Sprite bottle, which has a higher value as a recyclable material.
To fulfil the growing demand for sustainable recycling solutions in modern trade, CCBA partnered with hotels, restaurants, and cafes in Kenya to develop a platform that connected customers to recyclers, facilitating the collection and correct disposal of plastic trash.
CCBA has formed ten such partnerships in Kisumu, Nairobi and Nyeri since the fourth quarter of 2021. Over the previous five months, this alliance has offered a much-needed boost to PET bottle collection, with around 1.5 tonnes of plastic garbage transported to recyclers.
In Tanzania, CCBA has recycled more PET than it has generated in partnership with its recycling partner Sunda Chemical Fiber, achieving a recycling rate of 113 percent over the last two years.
Source : www,businezztz.com