Egyptian firm to set up vehicle assembly in Kenya
Posted on : Monday , 25th April 2022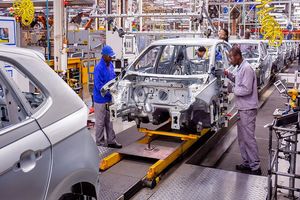 Ghabbour Auto (GB Auto), Egypt's publicly traded auto dealer, intends to form a joint venture in Kenya to produce and market passenger automobiles.
The declaration was made last week during a board meeting, according to a regulatory filing to the Egyptian Exchange (EGX).
The corporation, which sells automobiles, buses, lorries, and motorbikes, said that its board of directors had approved participation in the foundation of a company in Kenya under the name of GB Automotive for automotive commerce and production.
It produces, assembles, imports, and sells automobiles for Hyundai, Bajaj, Mitsubishi, and Volvo.
GB Auto trades, distributes, and markets various types of vehicles, including heavy trucks, semi-trucks, passenger cars, buses, agricultural tractors, and pick-up trucks.
The rich Ghabbour family of Egypt created GB Auto in 1985 and now owns 62.9 percent of the company.
According to previous statements, the company has developed to become one of the largest automobile assemblers and distributors in the Middle East and North Africa, with intentions to expand outside the area.
GB Auto has an exclusive deal with Mazda to import and sell Mazda-branded automobiles in Egypt.
In addition, the firm has an exclusive licence from Hyundai Motor Company in South Korea to produce and distribute Hyundai vehicles in Egypt.
GB Auto is also the exclusive distributor and aftersales service provider in Egypt for China's Chery-brand automobiles.
Its intentions for development in Kenya come as the government prepares to exclude locally produced passenger vehicles from VAT and excise taxes, potentially lowering vehicle prices by hundreds of thousands of shillings.
The automobiles will be free from all significant tariffs that are currently levied on fully-assembled units imported from abroad markets such as Japan, the United Kingdom, and South Africa.
Cars made in other countries are subject to a 25% import tariff, a 20% excise duty, and a 16% value-added tax, all of which must be paid in that order.
Passenger automobile assemblers such as Simba Corp (Proton car manufacturer) and DT Dobie (Volkswagen) are now exempt from the 25% import charge.
In 2021, sales of locally manufactured automobiles reached a new high of 70.6 percent of overall sales, moving 10,054 units compared to 4,195 units of fully-built imported vehicles.
The biggest assembly plants are Isuzu in Nairobi, Associated Vehicle Assemblers in Mombasa (owned by Simba Corp), and Kenya Vehicle Manufacturers in Thika (owned by the government, DT Dobie and CMC Holdings).