KENYA: Solarise Connects 1.8 MW Solar System to United Aryan's Roof
Posted on : Friday , 22nd April 2022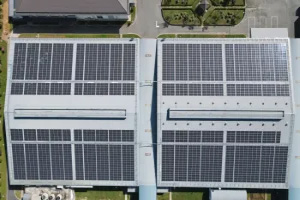 The recently commissioned plant on the roof of United Aryan's textile factory in Kenya is equipped with 3,334 solar panels. The plant, which has a capacity of 1.8 MW, was built (EPC) by Premier Solar Solutions. The Kenyan subsidiary of Starsight Premier Energy Group carried out the project on behalf of Solarise Africa, a provider of solar energy to commercial and industrial (C&I) customers.
The Sandton, South Africa-based company signed a power purchase agreement (PPA) with United Aryan, under which the textile company is expected to pay a lease fee for the new solar PV plant. Solarise estimates the annual production capacity of its new plant at 2.3 GWh.
Reducing United Aryan's carbon footprint
United Aryan is working with Solarise Africa as part of its environmental policy. The manufacturer of woven and knitted garments for the European and American markets, which employs more than 12,000 people, is working to reduce the carbon footprint of its global operations. And solar energy is helping them in this sustainable development policy.
"With our 1.8 MW solar photovoltaic plant, we have taken the 1st step in achieving our ambitious goals, and we are very proud to help reduce our energy costs while protecting the environment," says Amit Bedi, United Aryan's CEO. Solarise estimates that the new facility will enable the textile company to reduce its CO2 emissions by 33,100 tons, equivalent to the CO2 absorbed by more than 64,500 trees.
"With this new solar plant, United Aryan will reduce its electricity costs by about 72% in the 1st month and save about USD5.3 million over the life cycle of the solar plant," says Sakkie van Wijk, Solarise Africa's commercial director. The company led by Jan-Albert Valk continues to make impact investments in Africa. The company provides solar energy to C&I customers in Rwanda, South Africa, Kenya and is eyeing the Ugandan and Zambian markets.