Pfizer has committed R255 million to the South African pharmaceutical industry
Posted on : Wednesday , 13th April 2022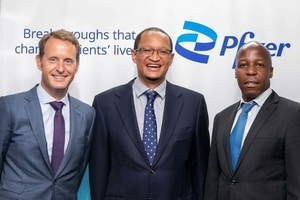 This investment, according to Pfizer, will provide jobs and opportunity for highly qualified health professionals.
Pfizer, a multinational pharmaceutical corporation, has announced that through its relationship with the Biovac Institute, it will spend R255 million in South Africa's pharmaceutical sector.
Patrick van der Loo, Pfizer's regional president for Africa and the Middle East (AfME), made the news at the Sandton Convention Centre's 4th SA Investment Conference.
"Breakthroughs that alter patients' lives are at the heart of our company's mission." "We're taking another important step toward making this a reality for our patients in our country," van der Loo explains.
A major pharmaceutical company's contribution has been hailed as a critical step toward ensuring long-term vaccine access.
The worldwide Covid-19 pandemic resulted in unequal access to life-saving drugs for poorer countries, while first-world countries hoarded vaccines, ordering more than was necessary in some circumstances.
It is envisaged that South Africa's Biovac facility will help to bridge the gap for the country and other African countries that frequently have to rely on western countries for medical aid.
Van der Loo visited the Biovac facility to meet the institute's leadership team and its employees.
"This is one of the few countries that meets the criteria for Pfizer's vaccine-related technology transfer projects."
We hope to continue to be a vehicle for increased knowledge transfer into South Africa and the continent, as well as to assure a future with a reliable supply of affordable vaccines and other medicines in Africa," he added.
- South Africa as a regional hub
Building South Africa's inventive capacity, as well as its research and development capabilities, is vital, as it will solidify the country's position as a regional power, which will benefit the Sub-Saharan region.
South Africa has worked hard over the years to establish itself as the preferred regional centre for innovative pharmaceutical businesses.
The country now leads the globe in the number of health partnerships with innovative international pharmaceutical businesses, and the benefits of being a regional knowledge base are becoming increasingly apparent.
"Through this newest investment contribution, Pfizer wishes to reaffirm its commitment to the government's developmental plan and its goal of promoting universal access to high-quality, affordable healthcare."
"We are delighted to contribute to the health and well-being of South Africans," Van der Loo concluded.