Air Tanzania Company Limited (ATCL) is in the final stages of signing partnership agreements with Emirates and the Royal Dutch Airline- KLM
Posted on : Wednesday , 13th April 2022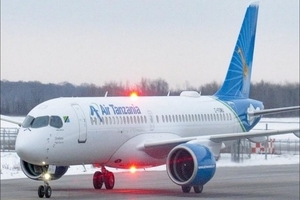 Air Tanzania Company Limited (ATCL) is nearing completion on cooperation agreements with Emirates and KLM Royal Dutch Airlines, which will allow customers to travel to locations in the United States and Europe.
The national carrier also stated that it was nearing the end of discussions with China's aviation authorities over a similar arrangement.
"These firms are the largest in the world," said ATCL managing director Ladislaus Matindi. "In an effort to grow the network, we will begin collaborations with them while we prepare to travel to the United States and Europe."
He was speaking during a visit led by Dr Ally Possi, deputy Permanent Secretary in the Ministry of Works and Transport, who also mentioned that Rwandair, Ethiopian Airlines, Qatar Airways, and Air India are currently collaborating with the carrier.
Despite technical difficulties, he stated that Air Tanzania tickets are now accessible globally.
"We are continuing to expand our business while also increasing the number of employees so that we can remain competitive in the market," he added, noting that Air Tanzania presently has 15 domestic and eight international locations.