Uganda, Tanzania to Become Oil Economies
Posted on : Monday , 21st March 2022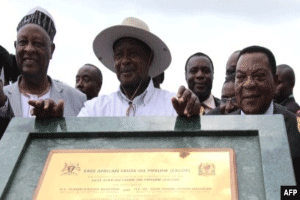 Tanzania and Uganda are gearing up to become the region's oil economies with the latter signing a mega oil pipeline deal to transport Uganda's oil to its port of Dar es Salaam.
The East African Community (EAC) is one of the fastest-growing economic blocs in the World. The pre-Covid-19 period saw the Economic Commission for Africa note that East Africa was actually the fastest growing economy compared to other regions on the continent.
As of 2016, the EAC bloc registered an impressive growth rate of 5.5% which was at the time projected to increase to 6.0% in 2017 and 6.3% in 2018 respectively.
In fact, at that time, the World Bank's Global Economic Prospects Report projected that Tanzania will post 7.1% growth, Kenya and Rwanda 6%, Uganda 5.6% and Burundi 2.5% in 2017. Then the global pandemic struck, everything changed.
For example, in Tanzania, a country that was leading the bloc in economic growth and was enjoying a projected 7.1% growth, estimates done in December 2020, showed the country's Gross Domestic Product was expected to grow by a mere 2.1% in 2020.
Thanks to strategic government Fiscal and monetary policies, the country was able to cushion its economy from any further drop and the Tanzanian economy showed exceptional resilience with a GDP growth of 4.1% in 2021.