To improve healthcare in Africa, KARL STORZ has joined the IFC medical equipment facility
Posted on : Wednesday , 9th March 2022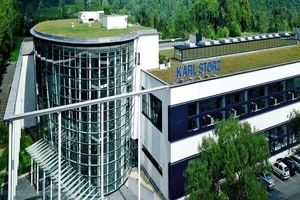 IFC recently announced that leading endoscope manufacturer KARL STORZ has become the newest company to join IFC's Africa Medical Equipment Facility, assisting Africa's healthcare providers in further strengthening their services in the aftermath of the COVID-19 pandemic.
KARL STORZ's participation in the Africa Medical Equipment Facility (AMEF) will assist smaller healthcare businesses in East and West Africa in purchasing or leasing medical equipment in local currency, including endoscopic equipment. Endoscopy is a minimally invasive medical procedure in which a long, thin tube with a light and camera at one end is used to perform diagnosis or specialised surgical procedures.
Due to their perceived high investment risk, Africa's smaller healthcare operators frequently struggle to secure bank loans to purchase equipment. This limits their ability to purchase or lease medical equipment and provide other critical health services to patients of all income levels.
"KARL STORZ aims to improve patient care and safety through its innovative endoscopy solutions. Working with the IFC's AMEF programme will provide more hospitals with access to cutting-edge equipment, allowing a greater number of patients to benefit from advanced surgical techniques that support improved outcomes and faster healing "KARL STORZ Vice President of Commercial Operations in the Middle East and Africa, Ara Sarkissian, stated.
"IFC is assisting small, private health operators in Africa because they play an important and growing role in providing patients with affordable, high-quality care. The Africa Medical Equipment Facility welcomes KARL STORZ's participation, which will help make specialised equipment more accessible in Africa "IFC's acting Regional Industry Director for Manufacturing, Agribusiness, and Services in Africa, Samuel Dzotefe, agreed.
AMEF, which will be launched in April 2021, collaborates with financial institutions and medical equipment manufacturers to improve private sector healthcare delivery by allowing hospitals, clinics, labs, and others to purchase advanced medical equipment.
The facility, which is supported by the International Development Association Private Sector Window (IDA-PSW) Blended Finance Facility and the Global Financing Facility for Women, Children, and Adolescents (GFF), is part of the IFC's Global Health Platform, which was launched to assist developing countries in combating the coronavirus pandemic and strengthening their healthcare systems.
The facility includes an advisory services programme to assist small healthcare businesses in improving their medical equipment procurement processes, financial management skills, and business planning. The advisory programme, which is currently active in both Côte d'Ivoire and Kenya, will also assist participating financial institutions in strengthening their credit underwriting skills for the healthcare sector.
The third medical manufacturer to join AMEF is KARL STORZ, which manufactures and distributes high-quality endoscopes, medical instruments, and other devices. More than 15,000 endoscopic instruments for human and veterinary medicine are now available from the company.