Africa aspires to be the world leader in processed tropical wood by 2023.
Posted on : Tuesday , 1st February 2022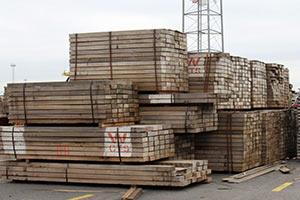 Gabon's wood sector aspirations are outlined in the '2022-2023 acceleration plan.'
This strategy intends to promote Gabon's economic diversification. The goal of the country is to become the world leader in processed tropical wood. 'We are already Africa's biggest manufacturer of plywood. We can be the world leader in processed tropical wood by 2023,' declared the Prime Minister on January 18 as he presented this growth vision.
Gabon plans to improve wood output by beginning a big programme of eucalyptus plants and reducing harvesting from its primary forests, according to Prime Minister Madam Rose Ossouka Raponda.
Gabonese authorities are also proposing changes to reduce the number of forest loggers. The goal is to have fewer enterprises that are better financed and follow national and international certification criteria. In a nutshell, forest operators are capable of investing in and being socially accountable to local people by developing concessions over greater regions.
'We plan to play an essential part in this process for the National Timber Company of Gabon (SNBG) to encourage Gabonese loggers,' said the Prime Minister.
According to the journal 'Le Nouveau Gabon,' last year's lumber output was 870,410 m3 and plywood unit production climbed by nearly 27 percent to 37,358 m3 over the same period. The government is betting on the wood business to diversify the country's economy and generate cash for the government.
Within five years, 50,000 new jobs are predicted to be produced in this industry, which is already established itself as one of the finest employment producers in the country.
Several partnerships are underway with the World Bank and the African Development Bank to establish and renovate technical vocational training institutions, whether in Libreville and the Nkok GSEZ, or elsewhere in the nation.