Nairobi based Car & General enters the electric car market
Posted on : Thursday , 27th January 2022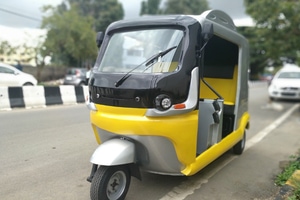 Car and General (C&G) will begin selling electric vehicles and tuk-tuks as part of a strategy to expand into the 'green' mobility market, which is projected to increase in response to efforts to combat climate change and pollution.
For decades, the Nairobi Securities Exchange-listed company has sold motorbikes and three-wheelers with internal combustion engines as part of its varied activities, which also include consumer lending.
"We will now devote more resources to electric cars, and we plan to debut electric three-wheelers in February. We're working hard with our suppliers to build two-wheelers that are ready for the market," C&G stated in a statement.
"We can play a key role in moving the two-wheeler and three-wheeler sector towards electric thanks to our symbiotic partnership with Watu Credit. In the next years, this will play a constructive role in reducing climate change."
With a number of automakers and countries declaring plans to phase out diesel and gasoline-powered vehicles entirely by 2040, the worldwide move to electric mobility is likely to have an impact on local auto dealers and motorists.
Kenya does not produce automobiles or motorbikes and only assembles a few types. This implies that dealers and consumers will be compelled to join the transition to electric transportation.
Aside from the promise of clean transportation, the shift might lower the cost of running automobiles and motorbikes because charging batteries will be the most expensive item.
Internal combustion vehicles incur extra expenditures, such as servicing, in which multiple consumables, such as oil, filters, and other fluids, are replaced at the manufacturer's suggested intervals.
Kenya has already attracted a number of start-ups looking to capitalise on the predicted electric mobility surge. BasiGo, Kiri, and Opibus are among them.
NopeaRide, a ride-hailing company, operates a fleet of entirely electric cars in Nairobi, where a few malls and private parking providers have built charging stations.
Kenya Power, the country's electricity distributor, has also announced intentions to target the move to electric vehicles with charging stations around the country.