China pledged to promote bilateral trade ties with Uganda: FM
Posted on : Tuesday , 7th December 2021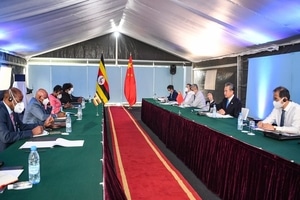 According to visiting Chinese State Councilor and Foreign Minister Wang Yi, China vowed to take bilateral trade between China and Uganda, as well as China and Africa, to new heights.
Wang made the statements during a meeting with Ugandan Foreign Minister Jeje Odongo on the sidelines of the Forum on China-Africa Cooperation's Eighth Ministerial Conference (FOCAC).
Wang said China will focus on the nine projects and take actual actions to help Africa achieve development and rejuvenation, citing Chinese President Xi Jinping's announcement of a series of key initiatives and measures for cooperation with Africa.
He stated that China will continue to support African countries in closing the "immunisation gap," contribute more to the protection of African people's health and security, and write a new chapter in the China-Africa relationship in the new era.
According to Wang, China and Uganda's mutual political trust has grown, and bilateral practical cooperation is going smoothly.
He noted that the two sides shared their joys and sorrows in the fight against the COVID-19 epidemic, injecting fresh content into China-Uganda cooperation.
China will build a "green channel" to facilitate the export of agricultural products from African countries into China, expand the scope of zero-tariff treatment for products imported from Africa, and aim to import products worth $300 billion US dollars from Africa in the next three years, according to Wang.
All of these measures will significantly boost African countries' export growth to China, and will catapult bilateral trade between China and Uganda, as well as China and Africa, to new heights, he added.
For his part, Odongo said he paid close attention to President Xi's crucial remarks at the FOCAC's 8th Ministerial Conference's opening ceremony.
The new cooperation measures proposed by Xi are urgently required by Africa, would strengthen Africa-China relations, and are a significant testament to China's steadfast support for Africa, he said, adding that these measures have been warmly embraced and highly recognised by African countries.
According to Odongo, Uganda is looking forward to improving synergy with China on jointly executing such measures and pushing Africa-China collaboration to a new level.
Uganda is pleased with its relationship with China and expresses gratitude for China's contribution to Uganda's economic and social growth, he said, adding that Uganda hopes to receive Chinese assistance in the export of Ugandan products to China and other countries.
Both sides also discussed ways to improve coordination and collaboration between the two countries in international and regional issues, and pledged to work together to protect Africa's and other developing countries' legitimate rights and interests.