Tanzania pledged urgent action and investment in more sustainable farming methods
Posted on : Friday , 26th November 2021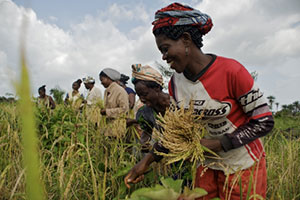 Prof Siza Tumbo, the Deputy Permanent Secretary at the Ministry of Agriculture, said the Tanzanian government was working with a variety of partners to combat climate change in the agriculture sector.
As a first mitigation strategy against climate change, he stated that Tanzania was dedicated to ensuring an appropriate supply of inexpensive, nutritious food was kept for the population.
Second, irrigated farming is being promoted in order to lessen reliance on rain-fed agriculture.
President Samia Suluhu Hassan declared Tanzania's commitment to implement measures to mitigate adverse climate change at the start of the 26th United Nations (UN) Climate Change Conference of the Parties (COP26) in Glasgow, Scotland, in the United Kingdom. He also challenged global powers to do their part in climate change financing.
Dr. Agnes Kalibata, President of the Alliance for a Green Revolution in Africa (AGRA), made a strong case for smallholder farmers in Africa, especially Tanzania, at the summit. According to her, developing sustainable food systems necessitates addressing the issue of climate change for smallholder farmers.
Prof Tumbo, who supports the demand to confront the climate change situation, highlighted that Tanzania has found some key issues that needed to be addressed immediately after serious research. Improvements to the farming system, increased mechanisation, better food storage, and more excellent provision of trustworthy weather forecast information for smallholder farmers are among them.
Most smallholder farmers would have to shift into modern farming by adopting best practises, such as understanding meteorological data for planning planting and post-harvest management, to reach national goals for addressing climate change, according to Prof Tumbo.
While the government has always been devoted to conserving water sources, he noted that water gathered during rainfall was used to support more irrigation cultivation.
Agra and its partners, according to Mr Rweyendela, support Tanzania's government's climate change mitigation efforts in project implementation.
AGRA has invested in Tanzanian agricultural research institutions over the years to assist their research and innovation in order to develop more climate-resilient, low-emission technologies and practises.
Tanzania is one of 45 nations that have vowed urgent action and investment to safeguard the environment and transition to more sustainable farming systems, according to the UK Presidency of COP26. Tanzania, along with Australia, Uganda, Madagascar, India, Vietnam, Nigeria, Lesotho, Laos, Indonesia, Guinea, Ghana, Germany, and the Philippines, supports the Sustainable Agriculture Policy Action Agenda for the Transition to Sustainable Agriculture and the Global Action Agenda for Agriculture Innovation, according to the COP26 UK Presidency.