Walkabout Resources expects to begin production at Lindi Jumbo in Q3, 2022, notwithstanding the hurdles posed by the COVID-19 epidemic.
Posted on : Friday , 26th November 2021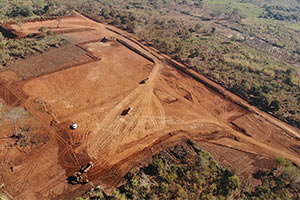 The corporation has already hired a local contractor to handle the earthmoving and civil work on the job site. 'The contractor is currently putting all of the civils in place so that when the plant arrives from China, it can be installed.' We've also made the first payment to our EPC contractor (Yantai Jinpeng Mining Machinery Co. LTD) so they may finish the equipment we bought two years ago. The first shipment of the plant is expected to arrive in Tanzania in December,' says Andrew Cunningham, CEO.
Lindi Jumbo will be an open cast mine, with a feed rate of around 650 tpd to the plant. The process involves a crusher and grinding circuit, as well as several phases of flotation and attrition, before the graphite is dried, filtered, and bagged.
While the present aim is to manufacture 40 000 tpa of graphite concentrate, the business is exploring increasing output if the product is in high demand. 'We've also engineered the factory to maintain flake size throughout the process to guarantee that our product sells for a better price,' Cunningham said
Lindi Jumbo has all the makings of a successful business, with a high-quality product and favourable market circumstances. However, the mine is more significant in the Tanzanian mining industry.
Since the election of President Samia Suluhu Hassan in March of this year, the administration has made a deliberate effort to establish a more investor-friendly climate and to work with multinational mining corporations to accelerate projects in Tanzania.
'We didn't lay off any employees and just continued running since we thought there would be renewed interest in the country's mining sector at some point.' And, while we started later than some of our counterparts, the work we've done over the last five years has put us ahead of them,' adds Mr. Cunningham.
Lindi Jumbo will also assist local communities by providing much-needed job opportunities. Walkabout Resources has already committed to prioritising hiring people from local areas and is certain that by the end of the project, 99 percent of the mine's workforce will be Tanzanian.
Furthermore, the firm has established a trust comprised of local villages that will hold 5% of the mine. 'Dividends payable will be paid into a trust, from which money will be dispersed to local communities, who will utilise the monies to invest in needed social initiatives,' Mr. Cunningham said.
'Everyone is keeping a tight watch on us, but we are pleased with our progress to date and are optimistic that we will begin production in 2022,' Mr. Cunningham says. The development of Lindi Jumbo has already garnered backing from the Tanzanian government's highest levels.
Source : www.miningreview.com