NMB Tanzania launches mining network platform to boost industry
Posted on : Tuesday , 26th October 2021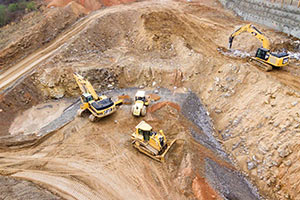 This is NMB Bank's third mining-related platform.
Mining clients of NMB Bank Plc in Arusha, Northern Zone now have their own networking platform.
The platform is part of a larger aim by the lender to increase lending to the mining sector from Sh63 billion to Sh200 billion by 2025.
The platform, known as the 'NMB Northern Zone Mining Club,' was introduced in Arusha over the weekend and aims to empower participants in the industry with their financial and operational demands.
This is the third platform for NMB Bank's mining industry clients, following those for Dodoma and Mwanza, which were introduced in June and July 2021, respectively.
The clubs, which are also planned for Kahama, Chunya, and Morogoro, constitute a network of the bank's mining industry clients and other stakeholders.
Speaking at the Arusha event over the weekend, Mr. Dismas Prosper, the NMB Northern Zone Manager, said the new club was a specific arrangement to better serve and develop miners and other sectoral actors.
'What we are introducing is the result of thorough study and proper establishment of the presence of financial needs for all players in the mining value chain, with capital and asset finance being the lingering requirements,' said Mr. Prosper.
Mr. Christopher Mgani, Senior Manager (Business Banking) at NMB, stated that the bank has the necessary fiscal power to accommodate credit requests from sectoral players. He stated that the bank has a separate loan package for the purchase of both new and old mining equipment.
According to it, a client opting for used assets must cover 30% of the procurement cost - and 20% when the equipment is new.
Miners, buyers, sellers, and suppliers that attended the Arusha mining club's opening thanked NMB for its assistance. They did, however, request a decrease in interest rates.
Ms. Rachel Njau, the head of artisanal miners, stated that enlightenment classes prior to issuing loans for improved credit management are equally crucial.
She claims that this group of miners is typically unaware of financial and investment difficulties, which has a significant impact on their output.
Source : www.thecitizen.co.tz