USAID is launching 13 new health projects in Kenya
Posted on : Friday , 22nd October 2021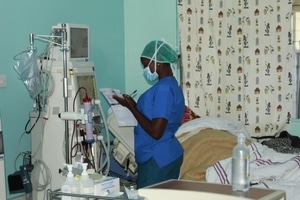 The United States is following through on its promise to guarantee that Kenyans drive development. The United States Agency for International Development (USAID) is establishing 13 new health initiatives in Kenya that will be executed by Kenyan-owned, Kenyan-led, or Kenyan-managed enterprises. More than 90% of USAID financing for HIV treatment delivery in Kenya comes from the President's Emergency Plan for AIDS Relief (PEPFAR).
"The US government's policy in Kenya emphasizes locally led development. We are pleased to collaborate on these new projects with local partners and county governments for the benefit of Kenyans. Kenya's growth and development require a healthy society," said USAID Mission Director Mark Meassick.
Kenya Health Partnerships for Quality Services is a five-year program that will be executed in 34 counties with a total expenditure of KSh 58.5 billion. The new initiatives will help counties provide HIV prevention and treatment, family planning and reproductive health, maternity, infant, child, and adolescent health, nutrition, and water, sanitation, and hygiene services. Orphans and vulnerable youngsters will be helped through interventions.
USAID has been collaborating closely with the 34 counties to enable a seamless transition to the new programs, which will focus on improving the health and social systems of the counties. USAID is also developing the ability of new local partners to guarantee that they can assist increase access to health and social services in Kenya in the long run.
The United States has assisted Kenya in managing the HIV/AIDS pandemic, avoiding mother and child mortality, combating malaria, TB, and COVID-19, improving health systems, and combating infectious disease threats as part of our 60-year cooperation. The United States government gives about KSh 60 billion in annual funding to Kenya's health sector in order to promote the well-being of Kenyans.