Kenya aims to double domestic car assembly by 2025.
Posted on : Friday , 22nd October 2021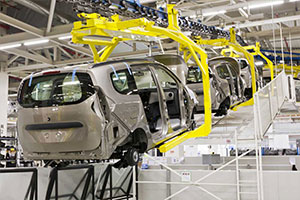 Kenya is relying on its national automotive strategy to support the sector, with plans to increase output over the next four years and reduce reliance on used imported automobiles.

The strategy, which was proposed in 2019 and was approved by the Cabinet, aims to increase the number of cars made domestically while also creating more employment in vehicle assembly.

According to Industrialization Trade and Enterprise Cabinet Secretary Betty Maina, the strategy creates an enabling environment for automotive sector participants to realise their full potential and position Kenya as a major automotive producer.

She made the remarks at an Associated Vehicle Assemblers (AVA) facility in Miritini, Mombasa County, adding that the automotive industry is vital to Kenya's aspirations to boost manufacturing and that President Uhuru Kenyatta is enthusiastic about it.

"The goal of this strategy is to create a thriving car sector in Kenya. It used to be there, but it has experienced difficulties, particularly with the importation of old automobiles "She stated.

"We are seeing a turnaround in companies like AVA, which gives us hope that Kenyans will be able to purchase excellent items locally."

It also aims to improve the competitiveness of the domestic automobile sector.

Globally, the sector has been a significant engine of macroeconomic growth and technical innovation, as well as a pillar of industrialization for many nations. However, Kenya's automotive strategy highlights a mismatch between training and the needed industrial capabilities, with the curriculum out of step with contemporary technology. This results in a skills gap, forcing manufacturers and entrepreneurs to train people on the job, raising production costs.

The policy is being developed into a sessional document to be presented to Parliament. Since its inception, automotive investors have grown more confidence and are increasing activities in local vehicle and motorbike assembly.

The policy, according to the CS, was endorsed by the Cabinet earlier this year, and some of its components are already in place.

"Legal notifications 84 of 2019 and 112 of 2020 represent the policy. These notices include a requirement for local content, stating that items or car components must be obtained in Kenya "She stated.

"Today's event will be the assembling of totally disassembled kits. They arrive dismantled and ready to assemble."

"What we'll see today is the assembling of totally disassembled kits. They are delivered dismantled and ready for re-assembly."

"Our hope with this strategy is that more and more of these parts will be manufactured in Kenya over the next 10-15 years, since markets drive the sector, and markets are formed regionally and locally," the CS stated."