Tanzania Mining Industry Aims to Capitalize on the Rare Earths scramble
Posted on : Tuesday , 28th September 2021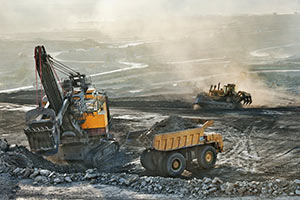 As miners seek to expand the rare earths sector, projects are springing up all over the world, including Tanzania in Africa.
Rare earth elements, a fast-growing mainstay of the green energy revolution, are utilized to manufacture electric magnets used in everything from electric cars (EVs) to direct-drive wind turbines. With stricter global emissions regulations driving up demand for EVs, capitalizing on rare earth material reserves is a smart way to gain a place at the table of the burgeoning green economy, and finding alternate suppliers to China has become a priority despite ongoing trade tensions.
Peak Resources' Ngualla project, located in southern Tanzania, is built on one of the world's largest and highest-grade undeveloped neodymium praseodymium (NdPr) deposits. Rare earths are still a new commodity, and while resources in Tanzania are high-grade, Peak Resources' project is the country's first rare earths mine.
It has, however, been hampered by complications such as disagreements between the government and gold producer Acacia, as well as a 2020 election in which parliament changed control. Peak is now on the verge of getting its mining license.
Tanzania has a long mining history, serving as Africa's fourth-largest gold producer as well as a profitable trading centre for precious stones such as diamonds and tanzanites.
With the transfer of power, a new emphasis on mining has taken over, with the Ministry of Minerals allegedly focusing on increasing mining's contribution to GDP. The new administration also wants to give mining firms the freedom to dig and Tanzania the opportunity to benefit from its mineral resources.
According to Bloomberg, the government plans to boost mineral profits by 33% over the next three years, resulting in a revenue gain of up to Tsh701.1bn (USD 302M) between 2023 and 2024. With such a structure, the groundwork has been laid for Tanzania's mining fortunes to rise, and Peak is in an ideal position to ride the wave.
'Tanzania is a well established mining jurisdiction,' says Peak Resources managing director Bardin Davis. It now operates substantial gold, diamond, and tanzanite properties, as well as large-scale rare earth, graphite, and nickel development projects. From a geological standpoint, it is an extremely appealing jurisdiction.
'Ngualla is one of the world's largest and highest-grade undeveloped NdPr deposits,' he says. 'It possesses ore reserves with a grade of 4.8 percent that support a 26-year initial mine life.' The goal is to generate a high-quality concentrate with a rare earth oxide grade of about 45 percent at Ngualla, which will subsequently be transported to our Teesside Rare Earth Refinery in the United Kingdom.'
Source : mining-technology.com