AAFA signs MoU with Kenya Association of Manufacturers
Posted on : Thursday , 23rd September 2021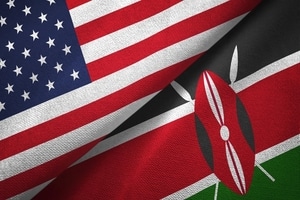 At a ceremony, the American Apparel & Footwear Association (AAFA) and the Kenya Association of Manufacturers (KAM) signed a memorandum of agreement. They have committed to work together on policy issues of common relevance to their membership, such as collaborative advocacy and information exchange on industry best practices.
The United States and Kenya have lately indicated an interest in boosting bilateral trade and investment. Negotiations between the United States and Kenya to create a Free Trade Agreement (FTA) were begun in July 2020, while the African Growth and Opportunity Act (AGOA) presently encourages trade between the two nations. With AGOA set to expire in 2025, AAFA and KAM have committed to work on its renewal while also supporting FTA discussions, according to a press statement from the two organizations.
Steve Lamar, president and CEO of the American Apparel & Footwear Association said, "Kenya is an important partner for the clothing and footwear industries, and we are pleased to formalize a collaboration agreement with the Kenya Association of Manufacturers." "This is an especially critical time for US-Kenya relations, as we seek to extend AGOA and reach a deal on a free trade agreement that would offer new markets and commercial possibilities. AAFA wants to work more closely with KAM to ensure that both governments have a better understanding of how the apparel and footwear supply chain works and how future agreements may benefit both industries."
"We are pleased to join AAFA in signing this Memorandum of Understanding. Kenyan Apparels' most major export market is the United States. This collaboration will strengthen business-to-business connections between KAM and AAFA members, and we hope that this will result in more trade and investment beyond our borders. Kenya's clothing manufacturing capacity has increased during the past 21 years of AGOA, with the country being the program's largest apparel exporter. With a focus on renewing trade agreements with the US and use of AGOA, our collaboration with AAFA will be important in ensuring that the business sector delivers fact-based policy advocacy," said Phyllis Wakiaga, KAM CEO.
AAFA represents over 1,000 world-renowned name companies in the clothing and footwear industries. Meanwhile, KAM represents over 1,300 members from 14 industries, including Kenya's Textiles & Apparel, Leather, and Footwear & Leather Goods sectors.