TANZANIA: Stiegler's Gorge Dam to Deliver First MW In June 2022
Posted on : Tuesday , 16th November 2021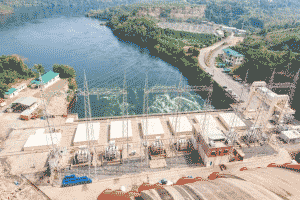 Following a recent visit to the site of the Stiegler's Gorge hydroelectric dam, Medard Kalemani, the Tanzanian Minister of Energy, accompanied by Assem Gazzer, his Egyptian counterpart in charge of public works gave an update on the progress of the project. According to the official, the project is already 62.7 per cent complete. The work is currently focused on the installation of the draft tubes at the base of the 9th turbine, which will evacuate water from the electricity generators.
This is preparatory work for the installation of the turbines at the Stiegler's Gorge hydroelectric scheme, renamed Julius Nyerere, after the father of independence and 1st president of the fledgling Republic of Tanzania from year 1964 to 1985. The dam will be the largest one in the country, standing 134m high and capable of holding 32.3 billion m3 of water, with a reservoir covering an area of 1,350km². The project is being implemented by Elsewedy Electric and Arab Construction.
The 2 companies have almost completed the construction of the dam and are now focusing on the hydroelectric plant. The facility, which will be located at the foot of the dam, will be equipped with 9 vertical Francis turbines. Each unit will be capable of delivering 235 megawatt of power, for a total capacity of 2,115 megawatt. According to the Tanzanian government, the dam will be filled in by November 2021. By June 2022, the 1st turbine will start supplying electricity to the Tanzania Electric Supply Company Limited grid.
The plant could be fully operational by year 2027. The Julius Nyerere Hydroelectric Dam will be one of the largest hydroelectric dams on the African continent, behind the 6,450 megawatt Grand Ethiopian Renaissance Dam and the 2,400 megawatt Batoka Gorge Dam on the Zambezi River between Zimbabwe and Zambia. Stiegler's Gorge, built on the Rufiji River, is also one of the most contested projects because of its environmental impact, as it is located in the heart of the Selous National Park. The Tanzanian government has had to cut down 2.6 million trees before work begins in June 2019.