Tanzania: Biggest Hydro Electric Plant Construction Ongoing
Posted on : Wednesday , 22nd September 2021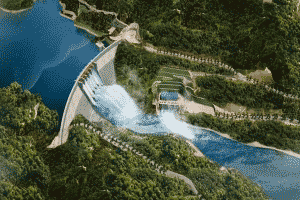 Installation of 27 transformers to increase transmission voltage of electricity produced at the Julius Nyerere Hydro Electric Power Project in Tanzania has started.
Once completed the new transformers will increase the transmission voltage from 15kV to 400kV. Also known as the Stiegler Gorge Dam and the Rufiji Hydroelectric Power Project, the project is planned to eventually have an installed capacity 2,100 megawatt and produce 5,9GWh of power a year.
Resident Engineer John Mageni, from the Tanroads Engineering Consultation Unit, recently visited the project site with civil servants from Tanzania's State House and the Ministry of Public Service Management and Good Governance to check on the project's progress.
John Mageni said other main ongoing work on site include the construction of the power house. Foundation work for the construction of the switchyard where electricity produced at the hydropower plant will be connected to the national grid, has also begun.
Work at the project site includes construction of the main dam which will have a total length of 1,025m at crest level and a height of 131m; construction of a permanent bridge on the Rufiji River, which will be 250m high and 12m wide; construction of 3 power water ways with an average length of 550m. The power water ways will channel water to the hydro turbines.
The Dongfang Electric Corporation (China) is making and installing nine turbine sets which will each have a 235 megawatt capacity. "The work of making and installing these electro-mechanical equipment, which include hydro-turbines, generations, excitation systems and main inlet valves has started and is continuing well," said John Mageni. 6 sets of the electromechanical equipment have arrived on site, of which 2 are already installed.
Dr Tito Mwinuka, Tanzania Electrical Supply Company managing director, said the Tanzanian government has thus far paid a third of the eventual total bill to 2 Egyptian engineering construction companies, Arab Contractors and Elsewedy Electricity for the project.
"So far, construction work is going well and the government has already paid contractors TZS2, 7 trillion out of TZS6, 5 trillion," said Tito Mwinuku. Tito Mwinuku added that supervisory and consultancy work through TANESCO and Tanzania National Roads Agency should be completed on schedule by June 2022.