Plastic waste created into farm equipment using 3D printing.
Posted on : Wednesday , 22nd September 2021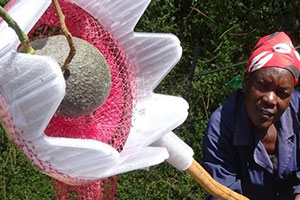 Three African countries are now benefiting from an international project. The "Circular Plastics Project" involves collecting plastic garbage in low and middle-income nations and using 3D printing to turn it into agricultural implements. Researchers at Loughborough University in England are leading the initiative.
Plastic pollution is still a problem throughout Africa. The "Circular Plastics Project" is one of the methods presented to address this issue. Plastic garbage collected in low- and middle-income nations, mainly on the African continent, will be recycled into agricultural materials as part of the effort. Three African countries are Kenya, Rwanda, and Nigeria which are the current collaborators in the initiative, according to experts at Loughborough University in England, who are implementing it.
While Rwanda has made significant progress in terms of plastic management, with the passage of Law 17/2019 in 2019 prohibiting the manufacturing, import, use, and sale of plastic carrier bags and single-use plastic goods.
Plastic waste is collected and transformed into transformable filaments, which are subsequently 3D printed (dimensionally) into six agricultural instruments, including a fruit picker and a fish farming system. Farmers are already using these devices, which are supposed to improve their efficiency. The UK researchers are also working on sand dredging adapters, non-electric milk coolers, and machete peelers, as well as a baler for recycled boats that uses wave motion to pump water, according to D Printing Industry (3DPI).
The Circular Plastics Project is aligned with two programmes, the Smart Sustainable Plastic Packaging Challenge (SSPP) and the Perpetual Plastic for Food to Go (PPFTG), both of which promote the employment of "smart technology" to address the world's waste issues. Researchers at Loughborough University are also working on these efforts.
Source : www.africatoday.co.tz