KCSAP's partnership with Kajiado County benefits farmers with Modern Farming Equipment
Posted on : Friday , 27th August 2021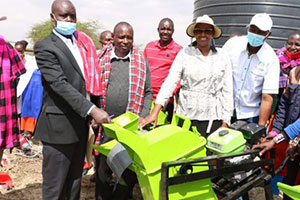 The Kenya Climate Smart Agriculture Project (KCSAP), in collaboration with the Kajiado County government, has donated seedlings, farm machines, Sahiwal cattle, and Dorper sheep to farmers in Oleikaitoriori, Ildala Lekutuk ward to enable them to adopt contemporary farming practises.
Improved manual hay bailers, fodder choppers, powered back pack weeders, and brush cutters are among the farm machines given.
Farmers affiliated with 11 self-help groups were also given 49 pure Sahiwal cattle, 67 dorper ewes, and 11 rams for breeding.
KCSAP also gave farmers with drought-tolerant yellow bean and cowpea seedlings, as well as fertilisers for top dressing and planting, as well as pesticides, to help reduce the effects of the drought.
During the handover of the farm supplies, Kajiado Deputy Governor Martin Moshisho urged the community to make the best use of them in order to maximise output.
Moshisho asked the groups to seek new sources of income and to remain together, noting that the government prefers to engage with groups rather than individuals in order to achieve greater impact.
Kajiado's Chief Executive Officer for Agriculture, Jackline Koin, said the farmers had been instructed on how to handle agricultural machines and how to care for the animals.
More farmers will be vetted and instructed on best agricultural methods, according to Koin, so that they can profit from the more agricultural initiatives planned for the region this fiscal year.
She challenged the groups to take ownership of their projects and to make effective use of farm machinery and animals in order to achieve the desired objectives.
Nicholas Saimi Swakei, chairman of the Inkairukok Olmame group, one of the beneficiaries, thanked KCSAP and the County Government for their help, adding the 11 Sahiwal cattle they received would improve their life.
"We normally engage in the traditional cattle farming methods that our forefathers used, but it does not yield profits for us. We are assured of more income now that we have received training and superior breeds," said Saimi, whose organisation consists of 25 members of both genders.
Mary Tompoi, chairwoman of the Nadupoi Inkiwanchani women's group, reiterated his comments after receiving motorised backpack weeders and tomato seedlings.
The gadgets, according to Mary, will help the group save time and energy while also improving their revenue. She went on to say that they mostly engage in table banking, but that now that they have the necessary skills and equipment, they would delve into tomato gardening to supplement their income.
The initiative, which is being conducted in six wards across Kajiado County, has a total cost of Sh45 million.
Source : www.kenyanws.com