Kenya to adopt electric cars to meet climate goals
Posted on : Friday , 27th August 2021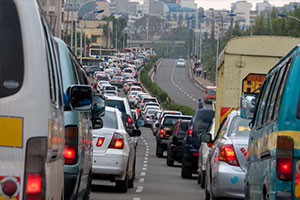 It is clear that virtually all of the world's population growth by 2050 is forecast to take place in developing countries yet thousands of cities in Africa, Asia and Latin America may stick to fossil fuel-powered vans, buses and motorcycles for decades.

The Kenyan capital's vehicle fleet doubles every 8 years and its roughly 4.5 million inhabitants rely on minibus taxis named Matatus to get around. Although they're inexpensive, they tend to be older and often run on dirty diesel.

Recent developments reports that Local EV start-ups are cropping up across Africa to capitalize on the potential. Demand for battery-powered vehicles is already vastly outstripping supply in nations like Rwanda, where motorbike maker Ampersand is rapidly escalating its bike and battery-swap station network.

Chinese company is selling its electric vans in Kenya via a local distributor that targets to import as many as 100 units by the end of the year. The Kenyan government's electricity producer has spent hundreds of millions of dollars drawing geothermal energy from the volcanic Rift Valley power for the grid that start up company plans to use to charge its fleet of electric rickshaws and motorbikes.

Major automaker, plans to accelerate the rollout of EVs in Europe in a push that could see its namesake brand fading out combustion engines in the region between 2033 and 2035. But the industrial giant also is exploring bioethanol in Brazil and has suggested that in some parts of the world, fossil fuels may stay around longer.

ARC Ride is trying to speed up the shift. The company targets to offer cleaner transportation in several African cities and is presently concentrating on Nairobi, where its motorbike fleet has helped deliver for Uber Eats. The startup plans to roll out the vehicles as taxis in Rwanda from 2022.