Kenya Airways sign deal with Embraer to launch flying taxis in Nairobi
Posted on : Thursday , 26th August 2021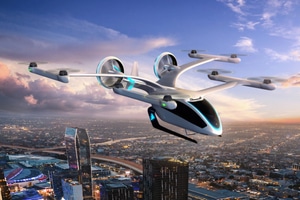 Kenya Airways has inked a deal with Brazilian aircraft manufacturer Embraer to deploy flying taxis in Nairobi, aiming to lead the market in this transportation innovation.
According to Business Daily, the cars would reduce travel time from Jomo Kenyatta International Airport to Nairobi's city center to six minutes.
Embraer inked a Memorandum of Understanding with Kenya Airways this week, via the national carrier's newly formed subsidiary Fahari Aviation, for the construction of the Brazilian company's Electric Vertical Aircraft (EVA) in Nairobi beginning in 2025.
Fahari is Kenya Airways' new unmanned aircraft wing, which has already launched a few unmanned aerial vehicle schools to teach eager Kenyans.
Embraer's EVAs can carry a load of 250 kg (approximately two to three passengers at maximum, or less with luggage) at 400 kilometers per hour and an average range of 250 kilometers each trip. The aircraft are entirely self-sufficient, requiring no human pilots and flying using automated technologies such as radar, lidar, and 12 onboard camera sensors. However, Embraer maintains that when they debut in 2025, there will only one pilot on board.
The vehicles are also entirely electric, which is a critical component of the agreement, which is based on the necessity to integrate zero-emission electric planes into Kenya's transportation industry. According to Andre Stein, CEO of Embraer's Urban Air Mobility Solutions subsidiary, the flying taxis would also provide an alternate means of transportation for people in a hurry.
Furthermore, the collaboration between Embraer and Fahari will provide the groundwork for "a foundation of concepts and methods to securely grow EVA throughout the country in the future years," according to Stein.
"We are delighted to be working with Kenya Airways to allow new types of air transportation for people and goods across the region. The development of innovative and broadly available Urban Air Transportation solutions will aid in the democratization of mobility by making it more accessible, cheap, and providing communities more options," Stein says.
Fahari Aviation, according to Allan Kilavuka, CEO of Kenya Airways, is at the forefront of investigating innovative technologies with a major focus on aviation, beginning with drones.
"We want to develop innovative air transportation options for our clients in Kenya and abroad through this cooperation," Kilavuka added.