President Samia Launched Military Hospital Funded by Germany
Posted on : Tuesday , 24th August 2021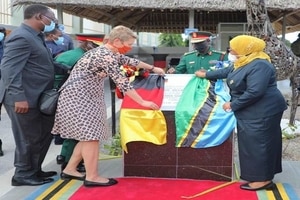 At Lugalo Military Hospital in Dar es Salaam, President Samia Suluhu Hassan inaugurated a cutting-edge Infectious Disease Centre (IDC).
The center is outfitted with a world-class laboratory costing 10bn/- that can treat coronavirus sufferers as well as those suffering from other infectious illnesses.
She characterized it as a fantastic addition to developing medical tourism programs and supporting the nation in the battle against various infectious diseases, since the globe is still dealing with the coronavirus epidemic.
Extending on this, the head of state stated that the government has invested in strengthening and enhancing health services, particularly in developing infrastructure to deliver better health services, increasing health professionals, and boosting access to medical equipment across the country.
She stated that because the country has begun medical tourism and many patients are visiting the Jakaya Kikwete Cardiac Institute (JKCI), neighboring countries should be alerted that the center, which has sophisticated laboratory equipment, is now operational.
She further stated that the projects handed over yesterday are a continuation of numerous programs that the German Federal Government has been assisting Tanzania with since 1961, with estimates ranging from 2.5 billion Euros to 2.5 billion Euros.
"By 2017, trade between our nations had increased to 320 million US dollars, and their investment in Tanzania had increased by 1.6 billion US dollars, providing 14,850 employment," she added. Ms Samia stated that the federal government, through the German Armed Forces Technical Advisory Group (GAFTAG), will also construct a level 4 Military Hospital in Dodoma, as well as a Peacekeeping College in Msata, Bagamoyo area.
As a result, she instructed Chief of Defence Forces (CDF) General Venance Mabeyo to educate competent medics who would ensure that the equipment is professionally placed at the IDC and that they are capable of performing minor services whenever needed.
Earlier, Ms Regine Hess, Germany's Ambassador to Tanzania, stated that the cutting-edge facility can function as a standard military hospital and military medical training center while also being adaptable in the event of a pandemic breakout.
In response, CDF Mabeyo called the IDC investment as one of the world's most critical assistance and feels it is one of the few facilities accessible in the nation.
"For the first time, a military hospital is equipped with this cutting-edge facility capable of combating large-scale infectious illnesses. We are appreciative to GAFTAG for their assistance "he stated that the German government has provided 20bn/- for the development of the Dodoma hospital.
They are now gathering materials in preparation for the actual work to begin. According to the CDF, the Tanzanian military has a collaboration arrangement with the German army via GAFTAG, which has assisted the country in the building of different projects.
According to him, among the GAFTAG-supported partnership projects are a printing center in Gongo la Mboto, Dar es Salaam worth 1.25 billion/-, an examination building at e Lugalo Military College of Medical Sciences worth 1.1 billion/-, and the construction of military workshops in Dar es Salaam, Dodoma, Shinyanga, and Mwanza totaling 3 billion/-. Other assistance includes the development of a zonal hospital in Monduli, Arusha area, that will be outfitted with contemporary medical equipment.
The zonal hospital will serve as a referral facility, with assistance from Dar es Salaam's Lugalo Military Hospital. The hospital cost 5.9 billion/- to build, with the Tanzanian government contributing 346.8 million/-.
In a statement, Health Minister Dr Dorothy Gwajima stated that the center will assist Tanzania achieve its medical tourism strategy, as well as back up testing numerous samples of linked diseases.
"Tanzania's health sector should be aware that there is a level 3 laboratory here that examines various diseases such as cancer in a very short period of time for one to obtain their findings, which further strengthens this vital sector," she added.
Source : newsafjric.co.tz