In the Narok County of Kenya, a new sanitation system has been installed.
Posted on : Monday , 23rd August 2021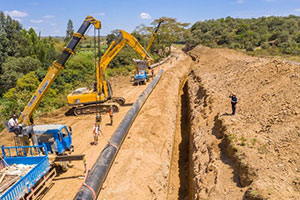 Kenya has constructed a new sanitation system in Narok Town, using improved technology that is anticipated to endure more than a century without regular repairs and breakages.
The county administration, in collaboration with a local firm Megapipes, announced the installation and stated that the system will service the town, which had no sanitation infrastructure until late 2020. The government had retained a quarry near Narok town for disposal, but it closed in 2019 when it became full and was pouring into the neighboring Enkare Narok River, negatively impacting Narok cleanliness.
The African Development Bank (AIDB) and the Kenyan government sponsored the project, which was carried out through the Rift Valley Water Board (RVWSB). Over 5km of Weholite HDPE Structured Wall Pipes were installed.
Weholite is a lightweight, high-density polyethylene (HDPE) structural pipe that is also the world's leading big-diameter plastic pipe. Throughout the world, the name is synonymous with quality, longevity, and adaptability.
One of the benefits of utilising Weholite instead of concrete or standard materials is the decreased time and expense of structural processes and charges. Because such huge equipment is not required, it is highly cost-effective. Weholite allows you to save time and money while installing them on the ground. Pipes were brought in 12-meter lengths, and we were able to weld 132m, or eleven pipes, almost every day, according to Eng. Ranjit Singh Rupra of Mangat I.B. Patel (MIBP) Limited, Consulting Engineers, who planned and oversaw the project.
The pipes were subsequently connected using portable heat fusion equipment, resulting in a completely leak-free system. This means you won't have the same input or output difficulties as with older materials, which lessens the strain on the new sewage treatment facility developed as part of the project.
Source : constructionreviewonline.com