The UK-Kenya Free Trade Agreement has been welcomed by the Agriculture Sector Network.
Posted on : Friday , 30th July 2021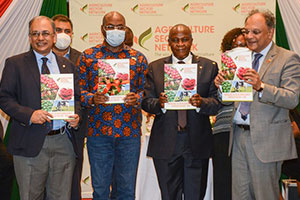 The Agriculture Sector Network, ASNET, a Kenyan umbrella organisation for the agriculture sector, has praised the newly ratified Economic Partnership Agreement between Kenya and the United Kingdom, saying it will help enhance economic development and job creation.
Kenyan major agricultural exports to the UK, like as vegetables, fruits, flowers, coffee, and tea, now have tariff-free market access.
Kenyan vegetable exports account for 43% of the UK market, while cut flowers account for 9%.
The trade agreement also ensures that UK exports to Kenya would be duty-free.
"We appreciate the Ministry of Industrialization, Trade and Enterprise Development allowing agricultural stakeholders to express their opinions on the UK-Kenya Free Trade Agreement. We recognise the importance of public-private partnerships in growing the Kenyan economy and creating a favourable business environment," said ASNET chairman Bimal Kantaria.
Agriculture is a major contributor to Kenya's economy and a key component of the country's development strategy. More than 75 percent of Kenyans' lives are estimated to be dependent on the sector, which generates roughly 33 percent of the country's GDP and employs more than 40 percent of the population. This necessitates assistance in all important areas in order for the sector to prosper.
"The agreement's milestones will allow Kenyan exports to continue to be duty and quota-free in the UK, as they are in the EU market area, and ensure foreign exchange revenues. Mr. Kantaria continued, "The sector recognises that the agreement would increase the competitiveness of Kenya's key agricultural exports, especially cut flowers, fresh fruit, coffee, and tea, even as we look forward to the list being expanded to include new products."
Because smallholder agriculture employs the great majority of Kenya's poor, raising their productivity can help to improve food security, increase rural incomes, reduce poverty, and build the economy.
Source : www.agrinvest.ke