Afreximbank Partners with Portugal's ANJE to Promote the African Textile Industry
Posted on : Thursday , 29th July 2021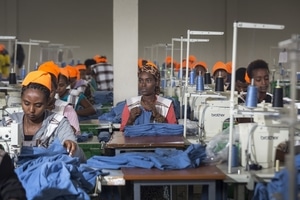 A three-year collaboration between the African Export-Import Bank (Afreximbank) and Portugal's National Association of Young Entrepreneurs (ANJE) has been launched to assist and promote Africa's fashion apparel and textile manufacturing business in Portugal and across Europe. This collaboration is part of Afreximbank's Creative Africa Nexus (CANEX) initiative.
CANEX seeks to enable investments in Africa's creative and cultural economy through finance, capacity building, export and investment promotion, digital solutions, linkage and partnership promotion, and policy advocacy, according to a joint press release.
Within the framework of this partnership, ANJE will provide African designers with showcasing platforms, facilitate their access to international markets, and strengthen their capacities through business mentoring and technical assistance in apparel production through its fashion project called Portugal Fashion. Afreximbank and ANJE want to attract additional investment possibilities into the sector in the long run, while also strengthening the technical skills of African industry participants, therefore improving Africa's manufacturing and production capacities.
With the appropriate investments, Africa's cultural and creative industries can contribute to the continent's structural change, generating employment and increasing exports, among other development benefits. The collaboration between Afreximbank and ANJE aims to solve the problems that African designers confront by giving them access to international markets while also improving their ability through brand incubation.
The initiative is intended to promote at least 40 African designers on the runways of Portugal Fashion each year. Designers will also have access to worldwide industry experts, retailers, manufacturers, and other important players through networking opportunities. The first fashion show will be held in Porto, Portugal, on October 13-16, 2021.
In addition to this event, Afreximbank and ANJE have formed a partnership to advise and support European and Portuguese companies looking to invest in Africa, with ANJE serving as a one-stop shop for investors looking to invest in Africa and requiring both Afreximbank and ANJE's advisory and support services.
"We think that Africa's huge creative talent pool is a chance to drive Africa's economic transformation," said Prof Benedict Oramah, President of Afreximbank. Under the African Continental Free Trade Area (AfCFTA), the bank is providing practical assistance for the establishment of an ecosystem to monetize the creative industry and boost its contribution to Africa's economy through CANEX.
"Africa's creative industries have great potential to become significant economic drivers, and I believe this effort will have a good and sustained impact," said Manuel Mota, vice president of ANJE. "It is an honour for ANJE to host and collaborate with Afreximbank on this significant occasion."