Exploring Multi-Sectoral Uses of Minigrid Power for All in Kenya
Posted on : Monday , 19th July 2021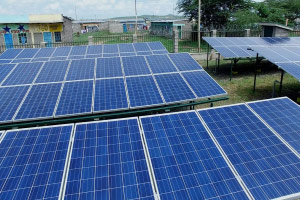 InfraCo Africa and Rural Village Energy Solutions are committing USD 8 million to support the scale-up of Kudura Power East Africa in rural Kenya.
InfraCo Africa, which is part of the Private Infrastructure Development Group, will become a 40 per cent shareholder of minigrid operator Rural Village Energy Solutions' Kudura Power East Africa.
Gilles Vaes, CEO of InfraCo Africa said they are committed to scaling up minigrids as a commercially viable infrastructure class. "Rural Village Energy Solutions is one of the leading minigrid operators in sub-Saharan Africa and we are confident in their capacity to consolidate the sector in Kenya and East Africa.
"The project will not only expand access to clean and reliable solar power in rural areas but will pilot delivery of street lighting, water pumping and purification and appliance financing to ensure that communities and businesses can truly maximise the health, security and economic benefits of clean and renewable power."
Rural Village Energy Solutions has established around 20 operational minigrid power systems in Kenya and with the support of InfraCo Africa, this project will build an additional 22 minigrids across Busia County in northwest Kenya. The minigrids incorporate battery back-up, range in size from 10-60 kWp and total 512 kWp. The minigrids are set up using a modular design which enables the company to respond to changing electricity demand as time passes.
The new minigrids will create more 7,000 new rural electricity connections through a mix of densification of existing sites and the addition of totally new minigrids.