Hyundai Motor Kenya has opened the Global Hyundai Dream Center for Automotive Training and Education.
Posted on : Wednesday , 14th July 2021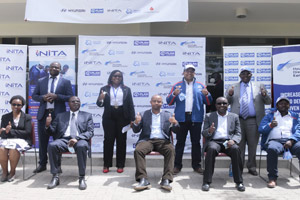 Hyundai Motor Company has announced the opening of its newest Hyundai Dream Center in Kenya, which is an automotive training and instructional institution. The new Dream Center is Hyundai Motor's sixth global institute, following Dream Centers in Ghana, Indonesia, Cambodia, Vietnam, the Philippines, and Peru.

The Dream Center, which is located in the National Industrial Training Authority's (NITA) Athi River Campus in Nairobi, was inaugurated by Hyundai Motor on June 24. Bang Sun Jeong, Vice President and Head of Hyundai Motor Company's Middle East and Africa Headquarters, congratulated the winners through video.

'The Hyundai Dream Center Kenya expects to help underserved youths with practical education in automotive maintenance and opportunities for employment through Hyundai Motor's wide network,' said Jeong. 'Outstanding students will be given field training opportunities at Hyundai Motor's service and dealership networks as well as industry placements and employment opportunities that ensues after graduation.'

Around 40 people attended the event, including Kenyan government officials, automotive technology educators, and Hyundai Dream Center staff.

Guests of honor included Board Director Willson Ngahu of the Kenyan National Industrial Training Board; Michael De Silva, General Manager of Salvador Caetano Kenya; Patrick Ngenga, Deputy Country Director of Plan International Kenya; and William Mwanza, Director of NITA (National Industrial Training Authority).

Hyundai Dream Center is one of Hyundai Motor's global Creating Shared Value (CSV) projects to offer vocational training and employment opportunities to youth in underdeveloped regions around the world in cooperation with the non-governmental organization Plan Korea. Through its programs, Hyundai Dream Center will assist underserved youths, while nurturing a steady pool of skilled Kenyan automotive talents.

Hyundai Motor has established Hyundai Dream Center Kenya within the electronics plant and automotive centers at NITA-a state-run vocational training institute-to help stimulate growth in the local automotive industry. Hyundai Motor plans to enroll 120 underserved young adults in the vocational course and support their education by providing a conducive study environment for three years, which includes the supplement of new teaching materials, equipment as well as scholarships for outstanding students. The company also aims for a female enrollment rate of at least 30 percent to encourage more young women to pursue careers in the automotive field.

'I would like to thank Hyundai Motor Company for the opportunity and giving us exposure to modern automotive equipment,' said Awinja Jeniffer, student of Hyundai Dream Center Kenya. 'I hope the project continues for many years and is introduced in other parts of the country so that more young people who may be less privileged like me can be supported in achieving their hopes and dreams.'

Hyundai Motor will continue the Dream Center project in impoverished regions throughout the world after its seventh Dream Center in Kenya, with the goal of generating social value via education and economic benefit through workforce and job creation.