NAEB Rwandan Upgraded its packing house to secure export safety
Posted on : Wednesday , 30th June 2021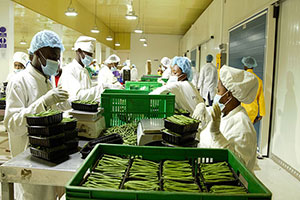 The Rwandan National Agricultural Export Development Board (NAEB) has upgraded a packing house to help the country's produce meet international market standards for quality and safety.
The CEO of NAEB, Amb. Willian Bill Kayonga, and Ton Negenman, First Secretary at the Embassy of the Kingdom of the Netherlands in Rwanda, both presided at the opening of the new building. A packing house is a place where fresh horticulture produce, such as fruits and vegetables, is received, sorted, and packed before being sold.
Currently, the facility handles 50 to 100 tonnes of fruits and vegetables per week for export.
It allows the private sector and a variety of exporting enterprises to get their products on foreign markets, according to Negenman: "At this time, exporters using this packaging house are shipping French beans, avocados, and chilli." They can be seen at the packaging house, and they wind up in Dutch supermarkets, where they are purchased by Dutch consumers."
The NAEB Horticulture Packing House was first created in 2017 with the help of a World Bank project that provided $500,000 (about Rwf460 million) to facilitate and support the horticulture sector and prepare it for export potential.
HortInvest, a programme supported by the Embassy of the Kingdom of the Netherlands that promotes horticulture value chain development in Rwanda, gave the facility a €300,000 (about Rwf305 million) improvement in 2019.
The improvement boosted capacity from three to four cold rooms, improved cooling efficiency, and increased handling capacity from 516 to 700 m3.