Kenya, Burundi sign deals to boost economic ties
Posted on : Tuesday , 15th June 2021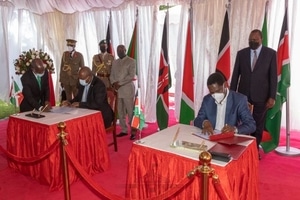 Kenya and Burundi have inked bilateral trade and investment agreements in order to boost economic links between the two East African Community member countries.
Presidents Evariste Ndayishimiye and Uhuru Kenyatta signed agreements on agriculture, livestock and fisheries, public service, foreign affairs, commerce, sports, and culture during a bilateral meeting in Kisumu's State Lodge.
The two presidents also instructed their respective ministries to resolve bottlenecks and hurdles impeding bilateral trade, such as the utilisation of Lake Victoria as a mode of transportation and subsistence.
The Presidents also agreed to revisit the 2018 Joint Permanent Commission for Cooperation agreement in order to speed up the implementation of approved agreements.
President Ndayishimiye is visiting Kenya for the first time since taking office in June 2020.
President Kenyatta stated at a joint press conference that Kenya and Burundi had agreed to prioritise education in their post-Covid-19 recovery plans, and that the two countries would support the Global Partnership Education (GPEfourth )'s replenishment campaign, which aims to raise at least $5 billion for education investment.
According to him, there are several unexplored commercial potential between Bujumbura and Nairobi.
"On regional cooperation, we shared views on key East African Community (EAC) development issues; and reiterated our resolve to continue working together in supporting the EAC integration agenda and the African Union Agenda 2063," stated President Kenyatta.
They also decided to continue collaborating within the United Nations to advance the African continent's common goal for integration and sustainable development.
Burundi currently serves as the head of the United Nations Permanent Advisory Committee on Security Issues in Central Africa's bureau (UNSAC).
President Ndayishimiye, on his part, appreciated Kenya's contribution in stabilising Burundi through international peacekeeping operations as well as commercial facilitation.
"Both in terms of investment and business, we are satisfied with the links that exist between our two countries. I recall Kenya's part in Burundi's peacekeeping and commercial facilitation through the port of Mombasa, as well as Kenyan investors already operating in Burundi," he remarked.