The Co-op Bank has secured $10 million in funding to lend to agribusinesses
Posted on : Monday , 26th April 2021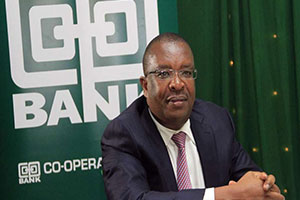 The eco.business Fund, an impact investment sub-fund for Sub-Saharan Africa, has given $10 million to Co-operative Bank for on-lending to sustainable agribusinesses.
The fund's first investment in Kenya provides much-needed funding to businesses looking to improve sustainable agricultural practises, which is especially necessary given the difficult operating environment generated by the Covid-19 crisis.
Co-operative Bank CEO Gideon Muriuki said in a statement that the lender's new alliance with eco.business Fund offers funding tailored to agriculture's financing cycles, as well as support structures to help farmers make a successful transition to sustainable, climate-smart agriculture.
Mr Muriuki said, "We have always strived to help farmers in their journey to achieve sustainable livelihoods, right from our founding as a bank for agriculture co-operatives."
The eco.business Fund was established by the German KfW Development Bank and Conservation International, with funding provided by the German Federal Ministry for Economic Cooperation and Development (BMZ).
The German-based impact investment fund, which was officially launched last year (2020), is dedicated to biodiversity conservation, sustainable natural resource management, and climate change mitigation and adaptation.
The eco.business Fund and Co-op Bank will use this new investment to provide required credit to sustainably certified agribusinesses, such as those in Kenya's key agricultural exports of coffee, tea, and horticulture.
"This new relationship with Co-op Bank looks promising because the bank is well placed to serve as a facilitator of sustainable production practises. We can only jointly promote green finance with the aim of creating positive environmental and social impact if we provide tailored financing to the agricultural sector, which is a key driver of economic activity and sustainable development in Kenya," said Dr Mackensen.
Agriculture is the cornerstone of Kenya's economy, employing roughly 75 percent of the rural population and accounting for 34 percent of the country's GDP.
The investment aims to provide financial services to those who are most in need while also supporting environmental finance as a mainstream concept.
Source : www.africafood.ke