ELSEWEDY ELECTRIC All Set to Explore Africa at 6TH POWER & ENERGY 2021 from 24th to 26th March
Posted on : Monday , 8th February 2021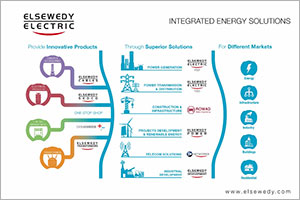 "ELSEWEDY ELECTRIC" has signed up as Gold sponsor at the most awaited event in Tanzania "6th POWER & ENERGY", in order to explore and expand its magnificent foot holes in Africa market.
"ELSEWEDY ELECTRIC" is an ISO 9001:2015 certified company engaged in Designing, Manufacturing & Testing of excellent quality Transformers since Year 1983.The Company breeds a spirit of technical innovation and specializes in designing and manufacturing customized Transformers based on Client Requirements.
Since the beginnings as a manufacturer of electrical components in Egypt 80 years ago, Elsewedy Electric has evolved into a global provider of energy, digital and infrastructure solutions with a turnover of EGP 46.6 billion in 2019. Listed on the Cairo stock exchange since 2006, they operate in five key business sectors: Wire & Cable, Electrical Products, Engineering & Construction, Smart Infrastructure and Infrastructure Investments.
They are pioneers of energy management and efficiency. As part of their commitment to sustainability they have established green energy and smart metering projects across Africa, the Middle East and Eastern Europe. A vital part of their mission is ensuring that the communities where they operate develop and flourish.
Their vision is "To deliver efficient integrated energy solutions provided with exceptional expertise and service to our customers and communities, safely and efficiently."
For 5 years, POWER & ENERGY Africa has been chosen by global manufacturers and exporters as the precise platform to enter the market of the millennium Africa.
6TH POWER & ENERGY Africa is the largest Batteries, Electric Wires, Energy Plants exhibition in the entire east African region is scheduled to be held from 24th - 26th March 2021.
Spread over a period of 3 days, the event brings together decision makers and influencers as well as technical experts and professionals from leading companies involved in power & energy generation, transmission and distribution sector within Africa and around the globe. Exhibiting at this event will allow you to showcase your products and services to the industry's largest gathering of qualified decision-makers.
Trade visitors from all over East & Central Africa are being invited directly and in collaboration with several regional trade bodies in Tanzania, Kenya, Ethiopia, Uganda, Somalia, Mozambique & Congo. Though Tanzania by itself is one of the biggest markets in Africa, major emphasis is being laid upon attracting traders and importers from neighbouring countries.
Visit their website at: www.elsewedyelectric.com
News source: https://www.expogr.com/tanzania/powerenergy/