Startup Offers Portable Lighting Systems To Finance Solar Charging Stations In Tanzania
Posted on : Friday , 4th December 2020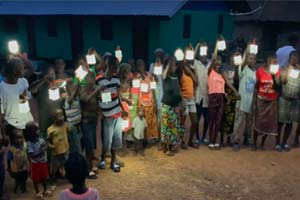 The joint start-up of South Korea and US-based YOLK initiated a crowdfunding campaign to fund thousands of solar charging stations in schools across Tanzania. As Springwise notes, a campaign aimed at helping children from low-income families have access to clean energy and education in the African region.

The idea is to sell portable batteries and light as much as possible. Solar Milk can be used as a power bank to charge cell phones and also makes a great night or flashlight. In reality, Solar Milk provides hours of bright light per charge or six hours of soft light per charge.

One in five children in Tanzania cannot attend school because they have to work to help their families. The energy expenditure of the average Kenyan household accounts for up to 15% of their monthly income, so saving money on electricity is a big advantage.

Training is key because it helps people to better their own lives instead of relying on external assistance.

In Africa, many poor families still rely on kerosene lighting and relatively costly charging stations to meet their energy needs. The new initiative, Solar Cow, aims to provide a meaningful opportunity for parents in low-income families in Tanzania to send their children to school instead of to work.

Children will be able to attach their portable batteries, which are also distributed by YOLK, to cow-shaped charging stations in their schools and attend classes while waiting for their batteries to be fully charged.

Responding to Tanzania's short-term energy needs often allows low-income families to tackle poverty in the long term by helping children to receive stronger education.